Three Must-Do Things During the Holidays at Universal Studios Hollywood
The holidays at Universal Studios Hollywood are memorable and delicious. From November 25, 2022, to January 1, 2023, Universal Studios Hollywood turns into a wintery wonderland. The park is filled with Christmassy shows, meet-and-greets, decorations, and my favorite – treats. But can you really get it all done in one day? Let's discuss the three must-do experiences while at the park and how to maximize your day.
Arrive Early
Arrive at the park as early as you can. Going early will give you enough time to enjoy not only the normal Universal must-dos (thinking about you, WaterWorld show) but also all of the limited-time festivities.
When we went to Universal, it opened at 9:00 a.m. and we entered the park around 9:30 a.m. We rode all of the Lower Lot rides and the Studio Tour by 12:40 p.m. This is the best route if rides are a priority for you because the lines for the Lower Lot rides can get long. If you arrive early, do meet-and-greets, food, and shows later on. If meeting the Grinch is important to you, jump into his line as early as possible because that line gets longer as the day goes on. If you're okay with skipping meeting the Grinch, you can always watch the funny interactions he has with others.
Chill with a Hot Butterbeer
A hundred House points go to Universal for creating hot butterbeer! Sitting down with a hot butterbeer while people-watching or decompressing in a quiet place gives you next-level Potter vibes.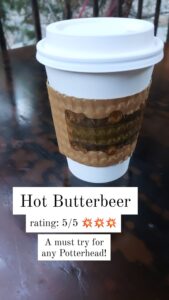 The holiday foodie options sound great, but try to sneak a peak at people's plates before buying because food at Universal can be hit or miss. For lunch, at Mel's Diner, we ended up getting three limited-time menu items. The first was the Holiday Popcorn Chicken & Waffle, and unfortunately, it was a bad choice. It's supposed to be served with popcorn chicken, stuffing, gravy, cranberry sauce, and pork rinds on a waffle. The cranberry sauce was missing, the waffle was soggy from the gravy, and the side of fries was cold. The chicken was well flavored but was room temperature.
Our second limited-time item was the Shake, Rattle & Roll Orange Cream Float, from the Universal secret menu. This is a great drink; if you love orange soda or orange creamsicles, you'll love it.
The third item was the Gingerbread Who-ville Tree Cookie. I don't usually like gingerbread, but this cookie has a nice, subtle ginger taste with a lovely, not-too-sweet white chocolate icing.
We ended the night with five more holiday food items. The alcoholic Hot Buttered Rum and the Peppermint Hot Chocolate are great treats for the nighttime. We snagged the last buttered rum offered in the Grinchmas Plaza around 6:40 p.m., so don't wait too long to get one. Make sure to stir your drink with a utensil because the rum is added to the top.
The Pumpkin Spice Churro just tastes like a normal churro. The massive Grinch Donut was great for the next morning's breakfast – not stale at all. And the Snow Globe Cookie is as cute as the gingerbread cookie.
See as Many Holiday Shows as Possible
Hit up a show around mid-afternoon or early evening before the nighttime festivities start up. Thankfully, it's easy to catch both the Magic of Christmas at Hogwarts Castle and the Grinchmas Tree Lighting shows since both happen multiple times a night and are under ten minutes long. Check out previews of the castle light show and the full tree lighting below.
View this post on Instagram
View this post on Instagram
All shows and meet-and-greets happen within a five-minute walk of each other. Make sure to keep an eye on the showtimes you want to catch because most of them end before sunset. Keep in mind the Animal Actors show and Special Effects Show both permanently close on January 8, 2023.
We had a fantastically festive time at Universal Studio Hollywood, but we do have one request. This is an official plea to Universal: Please add more dates to your holiday season next year! We were definitely not able to catch every holiday offering within the park's hours. More days are needed to allow the crowds to be more evenly dispersed throughout the holiday season.
Did you know that MuggleNet is 99% volunteer-run? With your monthly pledge of $5, you can provide monetary support to our volunteers while becoming eligible for exclusive swag giveaways!