UPDATED: Celebrate Halloween and Christmas at Warner Bros. Studio Tour London – The Making of Harry Potter
It might still be summer, but Harry Potter fans will be looking forward to the spooky season and beyond. A whole host of magical Potter events will be taking place, including at Warner Bros. Studio Tour London – The Making of Harry Potter in Leavesden, England, where fans can immerse themselves in spooky Halloween events and the enchanting Hogwarts in the Snow feature.

Dark Arts: September 15–November 5
The Dark Arts feature is returning for another year starting September 15, so get ready to experience a Halloween-ready Hogwarts filled with floating pumpkins and dimmed lights.
Don't forget to pick up your Studio Tour passport on arrival so you can join the hunt for the Dark Mark, which you'll find projected at various places throughout the tour. You can also keep your eyes peeled for the Death Eaters' procession, which will showcase original costumes seen on-screen. Plus, join in with an interactive display with Harry Potter's wand choreographer, Paul Harris, who will teach you spells and the importance of wand combat.
The Dark Arts event is taking place from September 15 through November 5, and tickets are available to buy online now.
Hogwarts After Dark: October 5–6
Hogwarts After Dark, the spooky Halloween feast at London's Studio Tour, gives you a night of exclusive after-hours access and is also returning for 2023 on October 5 and 6.
Would you dine amongst Death Eaters? A feast for only the most courageous wizards, witches and Muggles is taking place at #WBTourLondon this Hallowe'en. 🎃

Join us for Hogwarts After Dark from 5th – 6th October. ▶️ https://t.co/M0JFyexIyK pic.twitter.com/FitiaI9hLA

— Warner Bros. Studio Tour London (@wbtourlondon) July 20, 2023
With dimmed lights, spooky music, and patrolling Death Eaters, you'll enjoy a bewitching dinner on the sets of the Potions classroom and Dumbledore's office, followed by dessert on platform nine and three-quarters.
The Great Hall will be decorated for the spooky season with floating pumpkins, and you might spot some Halloween-themed treats as you pass the four House tables. You can also learn wand combat with Paul Harris, take part in green-screen photo opportunities, and take a look at a darker Diagon Alley, which will be lit especially for Halloween.
Tickets for Hogwarts After Dark cost £275 ($350) per person and can be bought online. You'd better be quick because tickets for the October 6 session have already sold out.
Hogwarts in the Snow: November 11, 2023–January 14, 2024
When the spooky season comes to a close, it only means one thing: Christmas. There truly is no better way to begin the festive celebrations than with a visit to London's Studio Tour to discover Hogwarts in the Snow.
The Great Hall will be filled with golden decorations that you'll recognize from Harry Potter and the Philosopher's Stone, and to top it off, the Forbidden Forest, Diagon Alley, and the incredible Hogwarts Castle model will be covered with an enchanting dusting of snow.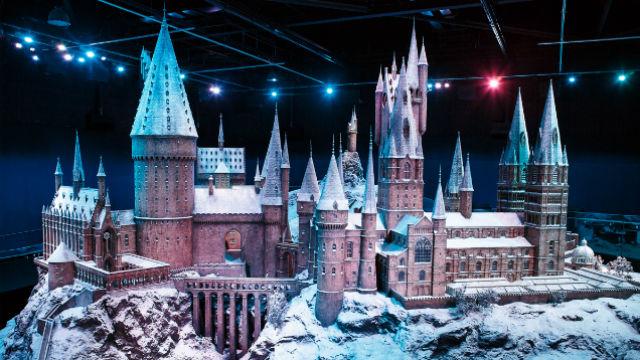 Experience Hogwarts in the Snow from November 11, 2023, through January 14, 2024. Tickets are available now.
---
UPDATE (September 16):
Dinner in the Great Hall: December 8, 12, and 13
Another magical opportunity for Potter fans this Christmas is to dine in the Great Hall while surrounded by the wonderfully festive Hogwarts decorations.
The adult-only dinners are taking place on December 12 and 13, with an evening dinner and the opportunity to explore the Studio Tour after-hours. This event, which is open only to people 18 and over, costs £275 ($340) and has now sold out.
For the very first time, the Studio Tour is welcoming children to the magical Christmas dinner on December 8, specifically those between the ages of 12 and 17.
There is ticket availability left for both adults and children for this event, with the adult tickets costing £275 ($340) and children's tickets priced at £250 ($309).
---
UPDATE (September 19):
Due to popular demand, an additional date has been added for the adult-only Dinner in the Great Hall: November 27.
Tickets go on sale September 20 at 10:00 a.m. BST.
---
Will you be visiting any of these magical events this fall and winter?