MuggleNet's "Deathly Hallows" Release Plans
by Emerson Spartz · Published · Updated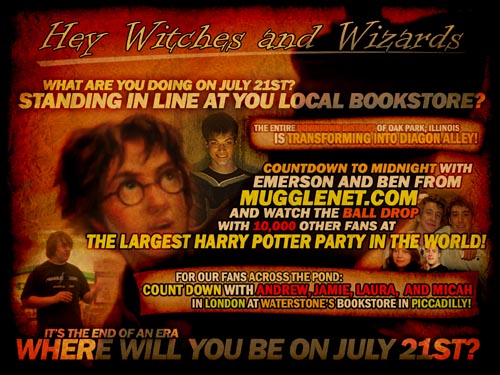 Chicago-Area Party Press Release
Oak Park Area Convention and Visitors Bureau
Countdown to Midnight: Harry Potter and the Deathly Hallows Book Release Festival - Friday, July 20, 2007
MuggleNet.com Joins the Festival!
(Oak Park, IL) Oak Park Area Convention and Visitors Bureau (OPACVB) and The Magic Tree Bookstore are pleased to announce Emerson Spartz and Ben Schoen of MuggleNet.com will be joining the Countdown to Midnight Book Release Festival.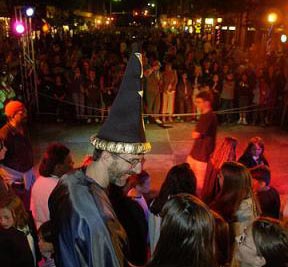 MuggleNet.com is the internet's most-visited children's website, inspired by the Harry Potter series. Founded by Spartz in 1999 when he was twelve, it has become the leading website for Potter fans to interact and discuss the series books and movies.
Spartz and Schoen will conduct an interactive discussion with fans at Scoville Park Stage from 8:30 -10 pm, focusing on their book MuggleNet.com's What Will Happen in Harry Potter 7. The book is currently #2 on the New York Times Children's Bestseller List and there are over 335,000 copies in print.
Following the Q&A, MuggleNet.com will host a book signing in Library Plaza. The signing leads up to a "Midnight Countdown" on the Plaza, beginning at 11:45 pm. Fans will then be able to pick up their pre-paid books from Magic Tree Bookstore at 12:01 am at the event's conclusion.
Other Countdown to Midnight events will start midday Friday, and continue through midnight. Activities will take place throughout Oak Park, including Scoville Park, The Avenue, Downtown Oak Park, Pleasant Home, and Mills Park. Area businesses will be participating as well - offering special wizard-ware, magical menus, and more throughout the day.
This will be the third "Countdown" festival celebrated in the Village of Oak Park since 2003. Each event has coincided with the release of a Harry Potter book in the series and has attracted tens of thousands of fans.
For more information on Oak Park's famous Countdown to Midnight Festival, including a schedule of events, click here.

London Party Details
On Friday 20th July, Waterstone's Bookstore will be hosting London's biggest Potter Party with a queue outside its flagship shop at Piccadilly Circus. The magic starts at 9 pm, with wizards, entertainers, mythical creatures, games, and prizes, and when the doors open at midnight you'll be able to buy your copy of Deathly Hallows from the Waterstone's Great Hall.
MuggleNet will be hosting a podcast to coincide with Waterstone's own release plans, to take place at 8 pm on the night of the release. The podcast will take place inside Waterstones over several floors, with TV cameras and speakers set up to allow the experience to be seen all over the store.
There will be discussions and competitions, prizes and theories and much, much more. During the podcast we will be giving away tickets to an EXCLUSIVE VIP party that begins at 10:30 pm and promises to be an extra special event; in the past, it has attracted celebrities ranging from Gordon Ramsay to Sting and Judi Dench.
The event ends at 10 pm; from here you will be able to leave the building and join the queue for the final two hours until the release of Book Seven (although there is no queue jump, so it's to the back of the queue!). Don't worry though, everyone is GUARANTEED a copy of the book!
Join Andrew, Jamie, Laura, Micah, and others for a fun-filled night of Harry Potter theorising, discussion, and excitement as we count down the hours to the release in style, at the biggest Harry Potter release party in London. MuggleNet will soon be giving away an all-expenses-paid trip to the podcast (UK only), including travel, hotel, and entry to the podcast. Details will be announced this coming Sunday.
How to get tickets for the podcast:
The event is by TICKET ONLY, but tickets are free and available by emailing harry.potter@waterstones.com including your name, address, age, and the number of tickets you want (up to a limit of 10) by midnight on Wednesday 11th July. The tickets will be posted out on a first-come, first-served basis so get in quick if you want to be near the front! Due to the configuration of the store and the numbers of fans attending, for those further back it is standing room only, while a number of others will be on a different floor to the panel, participating in the event via screens and a sound system. The color of the tickets will make it clear which section you are in, and with your tickets, we'll send you full instructions on how to get to the store and where to go when you get there. Under 16s will need to be accompanied by an adult, but one adult to every group of 9 is fine.
For those who cannot get down to London: there are Potter parties happening at Waterstone's bookstores up and down the country - click here to find your nearest one.

We hope to see you on July 20 in London or Chicago!
Want more posts like this one? MuggleNet is 99% volunteer-run, and we need your help. With your monthly pledge of $1, you can interact with creators, suggest ideas for future posts, and enter exclusive swag giveaways!
Support us on Patreon