Harry Potter and the Forbidden Journey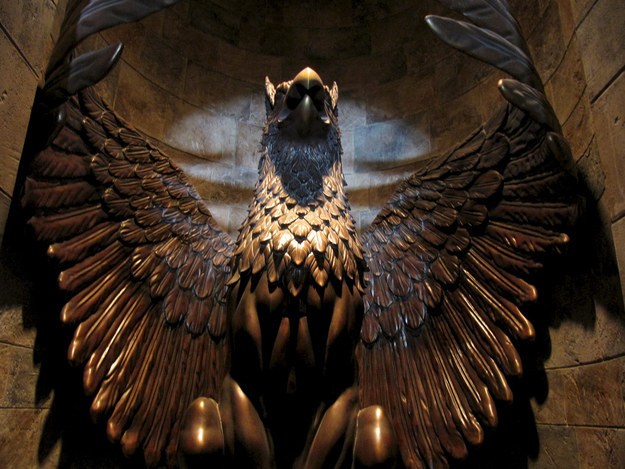 This report is the first of three chronicling a trip taken by representatives of top Harry Potter websites to the Wizarding World of Harry Potter theme park in Universal Studios, Orlando, FL. The trip just took place, and we are going to be releasing details (in the form of reports) in cooperation with Universal's wishes and often at the same time that those reports will be backed up by details directly from Universal. What we have witnessed has been awesome, and what can be said in all three reports will be very exciting to read, no doubt.
First, the release date. It was confirmed to us that the grand opening for the Wizarding World of Harry Potter at Universal Studios will take place on June 18, 2010. This information was made available to fan sites first and will be announced at some point later today (March 25). Interestingly, the Universal Orlando Resort has been offering vacation packages beginning May 28, 2010, that offer admission to the park and breakfast in the Three Broomsticks. Two separate sources at Universal confirm that this vacation package, which is still available from Universal Orlando's website and will continue to be available, is legitimate and will be honored. Those who opt to buy the vacation package and travel on May 28th will get what they've paid for. This means, technically, if you choose the package you will be among the first to visit and see the park.
Also confirmed by a Universal representative, the notion of a "soft open" or a preliminary period of the park being open to the public before the grand opening of June 18th is sound, but no specific dates are known at this time. So there will be opportunities for guests to access the park prior to the grand opening week, particularly by way of purchasing this "early access" vacation package mentioned above.
Speaking of the grand opening itself, details on activities and special events leading up to and/or surrounding that week are still in the works and will not be made official with the announcement from Universal later today. I look very forward to learning what they plan to do and will be just as surprised as everyone else when that is revealed.
The main purpose of our trip to Orlando was to receive a thorough run-through and definitive explanation regarding the park's biggest attraction (and, up until now, its biggest mystery): Harry Potter and the Forbidden Journey.
The fan-site heads met with Mark Woodbury, president of Universal Creative (and grand overseer of the project). He took our questions and described very enthusiastically what the long-awaited ride would be like, as well as what the park experience was going to be. Speaking of Universal's history, Mr. Woodbury noted that when it comes to rides, Universal likes to do things that nobody's ever done before. They pioneer groundbreaking and before-nonexistent special and technical effects to an ever-expanding on-screen experience and utilize the absolute latest in ride technology, combined, to give park-goers a completely new experience…. and that's just with their rides in general. When it comes to the Wizarding World of Harry Potter, he says, everyone involved has really taken it to the next level. According to Mr. Woodbury, the Wizarding World and its main attraction (Harry Potter and the Forbidden Journey) is going to "transform the theme park experience as you know it."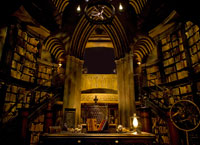 Mr. Woodbury then spoke at length about the Forbidden Journey itself, and here is what he had to say. The Forbidden Journey ride is going to be an excursion into the world of Harry Potter – bringing with it "all of the chaos of his world". It's a new story, a new adventure where the guests, as Muggles, are invited to witness the goings-on of Harry, Ron, and Hermione as they experience an adventure that takes them through many of the vast locations across Harry's world. Although the fan site heads had heard several times by this point that the ride experience was going to be "nothing like before" – we at this point asked for further clarification and got it. Harry Potter and the Forbidden Journey will be a "360-degree filmatic experience" with the biggest in special effects by which he means physical effects of all. Other rides at Universal, such as Twister or The Mummy which utilize real flames or wind that you can feel the heat of, wouldn't begin to describe the sorts of physical effects Mr. Woodbury hints at. Signs in the queue for the ride itself warn riders that they will be pushed, pulled, dropped, lifted, stopped, turned around, and all but thrown (although I'm reciting from memory; I don't recall them promising that we wouldn't be thrown). We asked Mr. Woodbury about fire, smoke, steam, as examples of physical effects, and he very seriously stated that there would be "all those, more, more, and more on top of that."
While interviewing Mr. Woodbury, he gave us a run-down of the locations that we would get to see on the Forbidden Journey ride itself and its story. Once you step inside the castle where the ride itself is housed, you are welcomed by Dumbledore and soon acquainted with Harry, Ron, and Hermione, who scheme to escape a particularly boring lecture of Professor Binns' and ask you to meet them in the Room of Requirement. The ride begins in the Room of Requirement and takes you to a Quidditch match, which features Ron, Harry, and Draco (presumably all playing Quidditch at the same time). You witness Quidditch first-hand, from next to Harry, once again while the ride is utilizing never-before-existent technology to make the environment real.
At one point, Mr. Woodbury was asked if the Forbidden Journey ride would actually travel outside of Hogwarts Castle (in the park). He very seriously replied, that when guests are on the ride, they will have a "very hard time distinguishing between what is actually outside and what is not." I wouldn't believe him if he wasn't so serious about it. But he was. Reiteration. This ride is gonna do all new things.
Also mentioned about the ride journey itself is an encounter with Dementors, the Whomping Willow, and a ride on the Floo Network thanks to Hermione. The press release issued by Universal later today will no doubt include a more concise ordering of these locations.
Another big game-changer that will set "Harry Potter and the Forbidden Journey" apart from other rides is its queue. Since the ride is set deep within Hogwarts Castle, you've got to literally travel through the castle to get on the ride, simple enough. However, the queue for the castle is so interactive that there is extra space in the queue to stay and watch a certain event happening in a particular part of the castle, as well as an opportunity to tour the castle without actually riding the ride. The queue inside the Hogwarts castle at the theme park is astonishing, and it is my great pleasure to announce that the website heads in attendance today got to enter Hogwarts Castle at the Wizarding World theme park and see it.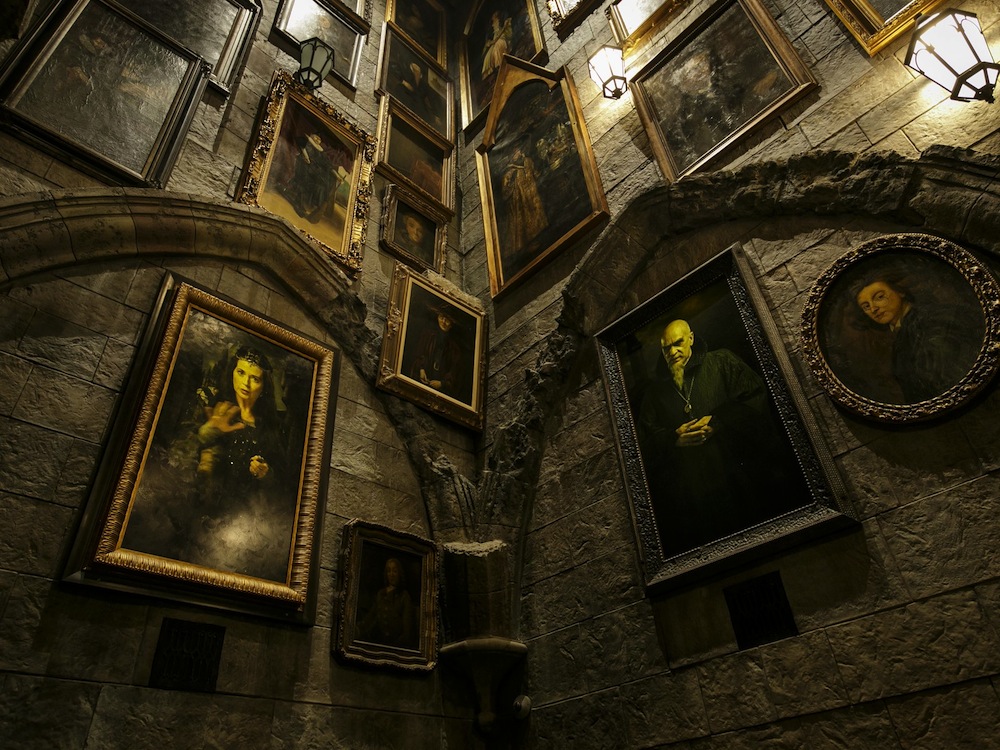 You enter through the gates of Hogwarts with the winged boars (exact replicas of the movie) with Hogwarts Castle domineering above you. Looking up, you can see the towers and the bridge that make the movie images so beautiful. Entering the castle, the queue (and your journey) begins in the dungeons. Here there is a scary statue of the One-Eyed Witch and the Mirror of Erised stowed away. You then travel upwards and outside, through the greenhouses of Hogwarts. Further on is the entrance hall, where the single coolest statue I've ever seen stands tall – it is a statue of the Architect of Hogwarts – standing with a map and a miniature Hogwarts in his hands, with a lion and a badger at his feet and a hat atop his head. Very cool. Walking on you see the Hogwarts House Jewels in hourglasses – it is hooked up to gears so I am wondering if these jewels will actually move/drop over time. Up ahead is the Golden Eagle entrance to Dumbledore's Office, which you walk past to enter.
Lasers. Here you are greeted by Albus Dumbledore (portrayed cunningly by Michael Gambon) introducing you to Hogwarts school, welcoming the Muggles, and offering some good advice about what is to come. To call Dumbledore a hologram would not do him justice. This laser technology which places Dumbledore on the balcony overlooking the queue has definition and a third dimension to it. He looks and sounds appropriately real. Moving further into the castle, you soon find yourself in the Defense Against the Dark Arts classroom where Harry, Hermione, and Ron greet you as well. They plan to escape a boring lecture of Professor Binns' by escaping under the Invisibility Cloak and offer to meet you in the Room of Requirement. It is a great introduction and leads you even further into the castle.
The next chamber is the portrait gallery; it is a very tall room perhaps only ten feet wide. On each of the four walls? Portraits of each of the four founders of Hogwarts…. and they move. And they talk. These portraits are unlike anything I thought was possible to do outside of the movies. The portraits move, but their surface looks like dried oil on canvas. Also, they travel. Other portraits in this hall leave their frames and enter the portraits of others', often generating an immediate response of reproach from whoever is being disturbed. It is clever and well-synced. It is J.K. Rowling's books brought to life.
All of the chambers in the castle, whether you go through the express queue, the regular queue, or are just looking around, are so richly detailed and accurately aged that it's hard not to count as a ride in itself. Meeting the Fat Lady and getting to read the latest posts on the board of the Gryffindor Common Room are among the simple delights this castle has to offer. After what is a long and detailed journey, you enter the final chamber before getting on the ride where two separate scenes are waiting to greet you.
There are three portraits, all alive, which explain a little bit more about the ride itself. You will sit in what they describe as "enchanted benches" and fly through Harry's world as such. The portraits argue with each other and question each other's competence to instruct as well as other humorous moments. This chamber is also where the exit lies for the queue if you are not riding the ride. We did take the exit which led us downstairs and into another portrait gallery, featuring the Founders again but this time having a totally different conversation than they were before.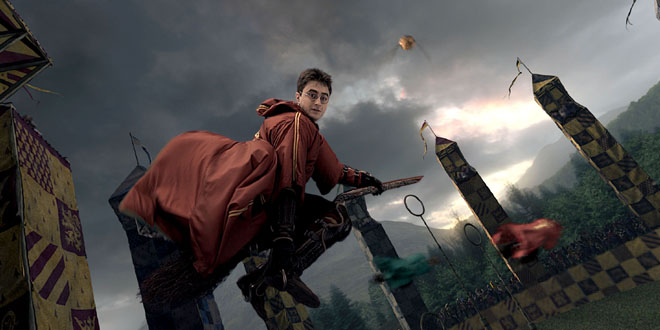 Prior to leaving, we saw the final character you meet before getting on the ride (in the Room of Requirement): The Sorting Hat. He speaks and gives one final warning about safety and physical conditions that may prevent the ride from being enjoyable. As I mentioned before, signs from the greenhouses onward dictate that you will be dropped, spun, twisted, pulled, pushed, and otherwise. Whatever happens during this ride, it's going to be intense.
The proper exit for Harry Potter and the Forbidden Journey will be into "Filch's Emporium of Confiscated Goods," a shop inside the castle that I can only dream of at this point. 90% of the merchandise in the Wizarding World of Harry Potter will be entirely unique and exclusive… and from the promotional photos of the Emporium, I can only imagine what those goods will be.
We also learned more about J.K. Rowling's involvement in this theme park and its development. For Mr. Woodbury, the Harry Potter books established the richest of worlds with so many characters and artifacts we loved. The movies, then, took everybody's own images of their characters and the world and gave a definition, a description, and a consolidation. The theme park, Mr. Woodbury says, is the next step, wherefore the world that everyone can agree on is expanded to a real, living and breathing environment. Hogwarts Castle is just one such example.
Finally, we were told regarding the Wizarding World theme park that "not a meeting was held without J.K. Rowling's books in the room, and not a decision was made without them." The relationship between the park and both movie heads and Rowling herself is insurmountable. Alan Gilmore, art director of the first four Harry Potter films, now lives in the US (and has for two years) working at Universal on this theme park. The costume designer for the films also designed the costumes that will be worn by staff members in this park. They are bringing the movies, but more importantly the books, to life. June 18th is less than three months away.
This report, once again, is the first of three that will be released in conjunction with details that Universal wishes to share in a specific time frame. I will be writing each report and publishing them as soon as we are able to. In closing, it is safe to say that the details on "Harry Potter and the Forbidden Journey" are thus far five steps ahead of anything I've seen, and I imagine the ride will be the best that Universal (or any theme park) has to offer. I find myself still a bit in shock that something this cool could be happening – even writing this review, I can see how this ride and the theme park are going to make a profound impression on the world, even for non-Harry Potter fans. I think it's going to convert a few, with its attention to detail and its special effects zings and booms.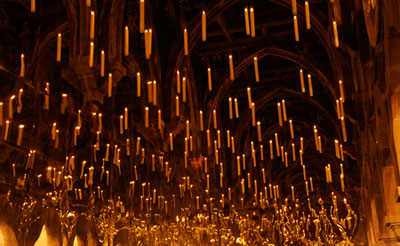 Want more posts like this one? MuggleNet is 99% volunteer-run, and we need your help. With your monthly pledge of $1, you can interact with creators, suggest ideas for future posts, and enter exclusive swag giveaways!
Support us on Patreon