Spotted Dick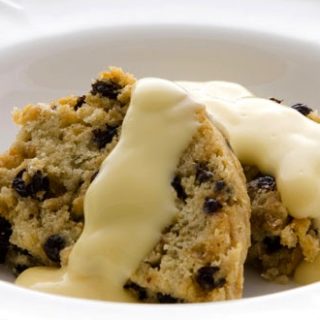 Spotted Dick
Dinah Bucholz
Hermione refuses to eat after discovering that enslaved house-elves cooked her food. Ron has no such qualms and naughtily tries to tempt her with spotted dick.
Ingredients
2

cups

all-purpose flour

2

cups

bread crumbs

1

cup

sugar

2

tsp.

baking powder

1

tsp.

salt

2

tsp.

cinnamon

ground

1/2

tsp.

nutmeg

ground

1/4

tsp.

clove

ground

2

sticks

butter

cubed, cold

1/2

cup

golden raisins

1

cup

currants

3/4

cup

milk

whole
Instructions
Place a rack or overturned shallow bowl in a large pot and fill with water. Bring to simmer.

Grease a 2-quart heat-proof dish. It needs to have a tight-fitting lid. Set aside. (Pyrex will work well.)

Whisk together the flour, bread crumbs, sugar, baking powder, salt, and spices in a large mixing bowl.

Rub in the cold butter until mixture resembles coarse meal (with some larger pieces of butter remaining).

Toss in raisins and currants.

Pour in milk and fold together until mixture is uniformly moistened. Turn out the mixture into the greased dish and press down the top with a spatula.

Cover the dish with lid, making sure it is tightly sealed. Place it in the pot; the water should come halfway up the sides of the dish. Steam for 3 hours. Add water to replenish as necessary.

Remove pudding from pot. Remove the lid carefully, and invert pudding onto a plate. Serve warm with warm custard as desired.
Notes
To make fresh bread crumbs, process 6 to 8 slices of fresh bread in a food processor or blender. There is no need to remove the crusts.
Dried cranberries can be substituted for the currants if desired.
If you don't have a container with a lid that will work, wrap your dish in plastic wrap tightly, then again in aluminum foil.