Treacle Fudge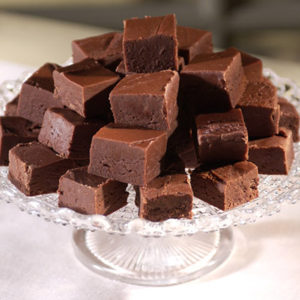 Treacle Fudge
Dinah Bucholz
Hagrid's glue-your-teeth-together fudge turns out to be quite useful. When Hagrid gets taken to Azkaban, Harry feeds some to Fang to keep him quiet. Fang can not bark because his fangs are stuck together. Fudge isn't foolproof, so it's no surprise Hagrid's doesn't come out quite right.
Ingredients
1

cup

sugar

1

cup

brown sugar

dark, packed

1

stick

butter

1/2

cup

heavy cream

2

Tbsp.

black treacle

1/4

tsp.

cream of tartar

1

tsp.

vanilla extract
Instructions
Grease an 8-inch square pan and set aside.

Combine granulated sugar, brown sugar, butter, heavy cream, treacle, and cream of tartar in a medium saucepan. Cook over medium-high heat, stirring constantly until the butter is melted and the ingredients are combined.

Wash down sides of the pot with a pastry brush dipped in hot water if sugar crystals form on the sides.

Clip a candy thermometer to the pot and continue to cook without stirring until the mixture reaches 240°F on thermometer.

Remove pan from heat and stir in vanilla extract.

Allow bubbles to subside and the mixture to cool slightly (about 5 minutes). Remove the thermometer and stir vigorously with a wooden spoon until the mixture loses its gloss and is very thick (about 15–20 minutes).

Scrape mixture into greased pan. Use palm of gloved hand (or wrapped in plastic) to smooth top of fudge.

Cool completely before cutting into 1-inch squares.
Notes
Blackstrap or dark molasses can be substituted for the black treacle if desired.
If the mixture gets too hot, the fudge will seize up to a hard grainy clump when you try to stir it.
If it does not get hot enough, the fudge will not thicken and will remain a gloopy mess.
You can try to save the fudge by putting it back in the pot with some water (do not worry, the water will evaporate) and reheating it to the correct temperature.