Peanut Butter Chocolate Frogs by Kimberly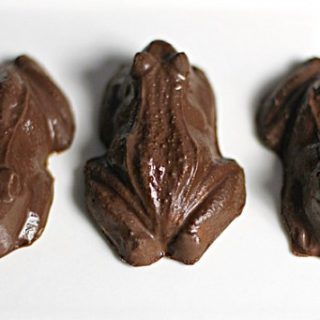 Peanut Butter Chocolate Frogs by Kimberly
Kimberly
You don't really need a special reason to make chocolate frogs, but they're a great addition to a Harry Potter-themed party, wedding, or movie marathon. These aren't ordinary frogs. They come with a plot twist: peanut butter filling.
Ingredients
12

oz.

chocolate

(of choice)

1

cup

peanut butter

1/4

tsp.

salt

1/2

cup

powdered sugar
Instructions
To start off, melt half of the chocolate using your favorite method. Microwave directions: Heat chocolate in microwave-safe bowl at intervals of 30 seconds, stirring between heating, until chocolate is melted smoothly.

Spoon melted chocolate into frog mold, filling each half full. Use a spoon to draw the chocolate up sides of the mold until evenly coated.

Put mold in the freezer and let chill for about 5 minutes.

While mold is chilling, combine peanut butter, powdered sugar, and salt in a small bowl. Mix to uniform.

Spoon quarter-sized amounts of peanut butter mixture into each frog mold.

Heat remaining chocolate and fill in the rest of the mold to the brim, spooning it over the filling.

Return frogs to freezer to chill for another 5 minutes.

Once frogs are chilled, invert mold and tap lightly on each frog to remove.