Spiced Rice with Kippers and Poached Eggs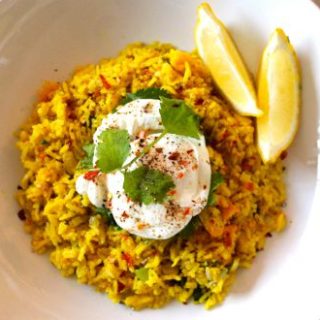 Spiced Rice with Kippers and Poached Eggs
Thane Prince
This is a popular British dish similar to kedgeree, but it has runny rather than hard-boiled egg yolks. It'd make a great supper or brunch.
Ingredients
1 1/2

lbs.

kippers

2

tsp.

coriander

seeds, whole

2

tsp.

cumin

whole

1/2

tsp.

black peppercorns

whole

2-3

cardamom

seeds only

1/4

tsp.

turmeric

ground

1

tsp

red pepper flakes

2

Tbsp.

olive oil

1/4

cup

butter

unsalted

1

onion

medium, chopped

1

cup

basmati rice

2 1/2

cups

fish stock

1

Tbsp.

cilantro

fresh, chopped

4

egg

black pepper

fresh ground (optional)
Instructions
Place kippers in a pan, cover with hot water, and simmer for 2 minutes.

Turn off heat and cover pan.

Crush spices and chili using a mortar and pestle (or grinder). Set aside.

Heat oil and butter in a large deep frying pan. Cook chopped onion until soft.

Pour in rice and cook for 2–3 minutes, stirring occasionally. Then add the crushed spices and cook for another 2–3 minutes.

Pour fish stock into rice and bring to a boil. Cover and let simmer for 10 minutes until rice is tender. Taste and season.

Flake the fish, removing all skin and bones. Gently fold fish and fresh coriander into rice. Then cover and cook on a low heat for 3–4 minutes.

At the same time, poach eggs for 2–4 minutes until whites are just cooked but yolks are soft.

Plate eggs over rice and fish. Finish with a grind of black pepper.
Notes
Cilantro is what the leaves and stems of the coriander plant are called in some parts of the world.
Remember: Cooking rice should never become a dry process, so if it dries out, add more liquid and continue to cook.