Mrs. Weasley's Lemon Meringue Pie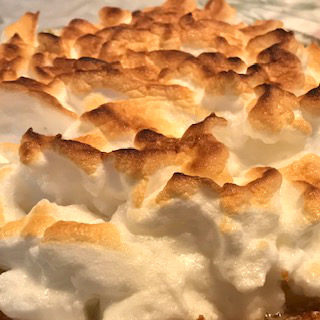 Mrs. Weasley's Lemon Meringue Pie
Maxine Cutler
Mrs. Weasley's kitchen is constantly full of delectable treats. Molly can always offer nurturing advice and wonderful food to all visitors of the Burrow. Maxine's recipe for lemon meringue pie is no exception.
Ingredients
14

oz.

sweetened condensed milk

1/2

cup

lemon juice

4

egg

separated

1

graham cracker crust

9-inch

6

tsp.

sugar
Instructions
Beat condensed milk, lemon juice, and egg yolks together in a bowl. Pour mixture into graham cracker pie shell. Bake for 15 minutes. Allow to cool.

Turn oven to broiler (500°F). Move oven rack to top position.

In a separate mixing bowl, beat egg whites to foamy. With mixer running, slowly pour sugar into whites. Beat on high until meringue is stiff and forms spikes. (This is referred to as "stiff peaks.")

Spread meringue evenly on top of cooled pie, covering crust completely.

Brown meringue on top rack in oven until golden-colored.

Allow pie to chill 2 hours.
Notes
A culinary torch is an alternative to using the broiler to brown meringue.
When making meringues, make sure there is no fat in the bowl since it will hinder the whites' ability to hold air. To prevent this problem wipe the bowl with a paper towel dipped in white vinegar (no need to rinse the bowl).
Recipe photo by Shana Kaplan (@ShanaKaplan1128)