Golden Snitch Cake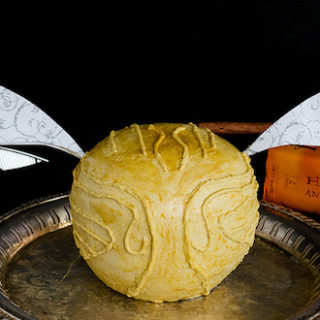 Golden Snitch Cake
Melinda Novak
This gluten-free cake was created in celebration of J.K. Rowling and Harry Potter's birthdays. In the books, Mrs. Weasley bakes Harry a similar cake for his 17th birthday.
Ingredients
Cake
2/3

cup

coconut flour

1/2

cup

cocoa powder

unsweetened

1/2

tsp.

baking soda

1/2

tsp.

salt

1/2

cup

Greek yogurt

plain

3/4

cup

honey

6

egg

1/2

cup

water

1

Tbsp.

vanilla extract
Butterscotch Frosting
3

egg whites

1/2

cup

brown sugar

2

Tbsp.

brown sugar

1

cup

butter

cubed

2

Tbsp.

butterscotch flavoring

1

pinch

salt

food coloring

yellow

pearl dust

gold (or gold color mist)
Instructions
Cake
Generously grease two 1-quart Pyrex (oven-safe glass) bowls (or ball pans).

Preheat oven to 350°F.

In a small bowl, stir together flour, unsweetened cocoa, baking soda, and salt. Set aside.

In bowl of stand mixer, beat yogurt and honey together until smooth. Add eggs, one at a time, until well mixed. Add the water and vanilla extract, mixing until smooth. Slowly add flour mixture, beating until well incorporated.

Divide batter between the two oven-safe bowls (about 2 cups batter in each). Bake at 350ºF for 30–35 minutes, until a toothpick comes out clean.

Allow cakes to cool in bowls for at least 10 minutes. Then, slide an offset spatula or knife around edges to release, turning out onto a plate. Allow to cool completely before wrapping tightly in plastic wrap and placing in freezer for 2 hours (or overnight) to set.
Butterscotch Frosting
Bring a saucepan with 2″ of water to a simmer. Place egg whites and sugar into a heat-proof mixer bowl, and place above water. Whisk mixture until sugar is dissolved.

Place bowl with egg whites on mixer stand, and whisk on medium-high speed until you have stiff, glossy peaks and mixture is cool, about 10 minutes.

Reduce speed to medium-low, and add butter, one piece at a time, mixing until fully incorporated between each piece. Add vanilla, butterscotch, and salt. Mix until well combined. Add yellow food coloring, mixing until desired golden color is reached.
Wings
Print out template, and cut out each wing.

On the back of scrapbook paper (where there is no print/design), trace wings, writing side up. Flip each of wings over, writing side down, and trace again. Cut out four wing pieces. They will be double-sided.

Line up wings so they are double-sided, making sure they line up evenly. Set one wing with the inside facing you, and place lollipop stick at the inner corner (lollipop stick should have about half sticking out of paper). Hot glue lollipop stick in place.

Line the edges of the same wing with hot glue, and then match it up with the other piece, gluing them together. Cut off any overlap/visible glue chunks. Repeat with other wing.
Assembly
Remove cake layers from the freezer and unwrap.

Place bottom cake layer flat side down on a 6″ cake board. Frost cake top-down. Once frosted, gently flip layer over, round side down, making bottom of cake. Frost bare top of cake.

Gently place other cake layer on top of frosted bottom layer. Frost top half of cake.

Place in refrigerator to set buttercream for about 20 minutes.

Once set, poke wings gently into the sides (not going all the way in) to mark their place. Outline all the snitch designs gently with a toothpick, wiping away any excess frosting that scrapes off.

Place extra frosting into a piping bag with a Wilton #3 round tip attached (or any tip good for writing), and trace outlines.

Insert wings into sides, pushing them in until the lollipop sticks are no longer seen.

Sprinkle cake with gold pearl dust or spray with gold color mist (optional).

Store in refrigerator until about 1 hour before serving.
Notes
If your buttercream turns to soup when the butter is added, then the egg whites were too warm when the butter was introduced. Let it whip until cool. (Ice touching the outside of the bowl will help.)
If your buttercream looks grainy or lumpy as the butter is added, then it's not warm enough. Continue whipping while lightly warming the bowl with a hairdryer or culinary torch.
Refrigerating this type of buttercream will require re-whipping before use.
Gluten-free cakes and muffins don't act like their wheaty counterparts. This cake may look raw and dense when they're done baking. Follow the recipe carefully.
Leftovers can be stored in the refrigerator (preferably in an airtight container) for up to 5 days.