"Harry Potter and the Sorcerer's Stone" and "Harry Potter and the Chamber of Secrets" Ultimate Edition DVDs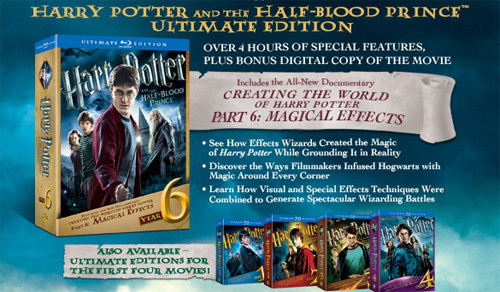 Admittedly, I was wary of these Ultimate Edition DVDs when they were announced by Warner Brothers. Would they truly be "ultimate" edition DVDs? As I said on MuggleCast, "ultimate" means nothing can be better – so they aren't allowed to release new editions after these!
I received copies of the Sorcerer's Stone and Chamber of Secrets editions today. We've seen the covers and insides of the boxes, but opening them up for myself got me really excited. Made of sturdy material, the boxes and the contents within are definitely great collector's items for any Potter fan. Each Ultimate Edition comes with two oversized "Character Cards" and a full-color book with various pictures, artwork, concept sketches, and more.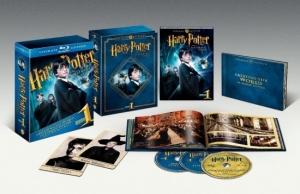 The most important part of each edition – the film itself – was encased in a 4-sided box holding the film, an extended version of the film, a bonus features disc, a documentary disc, and a disc with a digital copy for your iPod, iPhone, Zune, etc.
What makes each Ultimate Edition truly special is the included 8-part documentary titled "Creating the World of Harry Potter". One part of the documentary will be placed onto each Ultimate Edition. Sorcerer's Stone has "Part 1: The Magic Begins" and Chamber of Secrets has "Part 2: Characters".
Part 1 opens with Dan Radcliffe on the set of Deathly Hallows essentially trying to sell the documentary. "For you," he explains, "it'll be a rare peek behind the curtain into a world we have yet to reveal to anyone outside of the Harry Potter family."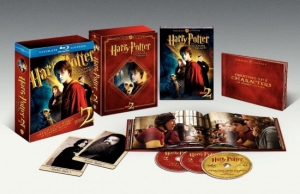 Dan wasn't wrong. Part 1 in the Sorcerer's Stone set is 60 minutes long, and Part 2 in the Chamber of Secrets set is 80 minutes long. Both provide exhaustive looks into the Potter series with images, behind-the-scenes footage, screen tests, and interviews we've never seen before. At this rate, after all 8 Ultimate Editions are released we will have seen a 9 – 10 hour documentary on the world of Harry Potter.
Virtually every cast and crew member is interviewed. To name a few of them: Dan Radcliffe, Emma Watson, Rupert Grint, the Phelps twins, Robbie Coltrane, Karen Lindsay-Stewart (casting director), Matthew Lewis, Alfie Enoch, Stuart Craig (set designer), Alan Rickman, Maggie Smith, Tom Felton, Richard Harris, Steve Kloves (screenwriter), Warwick Davis, Richard Griffiths, Fiona Shaw, Harry Melling, Ian Hart, John Hurt, Kenneth Branagh, Mark Williams, Jason Isaacs, Julie Walters, David Bradley, Gary Oldman, Emma Thompson, Ralph Fiennes, Timothy Spall, Evanna Lynch, Helena Bonham Carter, Natalia Tena, Imelda Staunton, Jim Broadbent, Jessie Cave, Bonnie Wright, and even Sorcerer's Stone composer John Williams.
Some of the cool things we learn in the documentary:
The last scene of Sorcerer's Stone was filmed first.
For that first shoot, Emma was wearing buck teeth to match her book character. They got rid of the teeth after filming this scene.
For the same shoot, Dan's eyes weren't teary only because he was saying bye to Hagrid – Chris Columbus had Dan wear green eye contacts but they were bothering Dan.
Maggie Smith helped design a lot of McGonagall's wardrobe. She wanted to give McGonagall a Scottish look.
Tom Felton was once screen-tested for the role of Harry Potter. He had his hair turned black and all. They eventually decided he'd be best as Draco.
Set designer Stuart Craig admits that he wasn't happy with the exterior design of Hogwarts in the first film. He recreated Hogwarts in each film to make it more and more iconic.
We see JK Rowling on the Diagon Alley set as she walks onto it for the first time. One crew member notes that she had a tear in her eye because she couldn't believe how accurate it was.
And those were just a few notes from Part 1! Part 2 of the documentary is all about the characters, and once again all the actors are interviewed. Each actor dives into their role and how they created the character Jo originally designed in the book. They even read their character introductions straight out of the books – it's a cool thing to watch.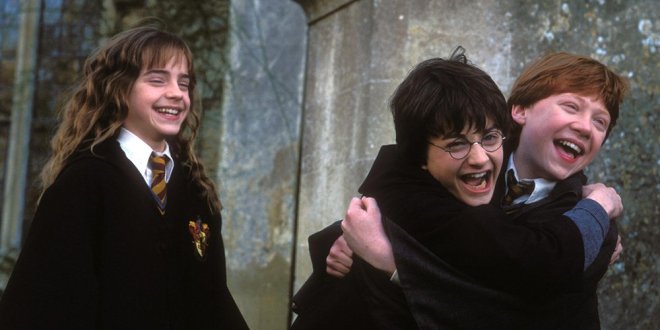 A particularly touching moment came in a section about Richard Harris. Chris Columbus recalls the last conversation he had with Richard, and Dan and Emma talk about working with Richard. This transitions into the first interview with Prisoner of Azkaban director Alfonso Cuaron, who discusses casting Michael Gambon.
Part 2 of the documentary moves through films two through six and includes a section on filming Dumbledore's death scene when they raise their wands in unity. It includes a clip of director David Yates speaking to all the cast on set. He tells them how important it is to perfectly capture the emotional scene.
All in all, it was a really enjoyable documentary to view because there is a TON of new information revealed. I cannot emphasize enough how much is learned from just these two parts. I just had one issue: JK Rowling doesn't speak at all in the documentaries. It's surprising when you consider her major role in the franchise. Maybe she'll be in future parts, but at this time we don't know for sure.
If you're a casual Potter fan, you may not appreciate these. Maybe borrow the documentary discs from a friend and enjoy the in-depth information.
If you're more than a casual fan, I recommend buying these for one reason: they are fantastic pieces of memorabilia for big Potter fans. When all 8 pieces of the collection are released we will have a very beautiful, in-depth set of Potter films and documentaries that encapsulate the Potter phenomenon over the past 10 – 15 years. I can't wait to display all 8 on a shelf next to the 7 books and reflect on an amazing franchise.