Leek-y Cauldron Soup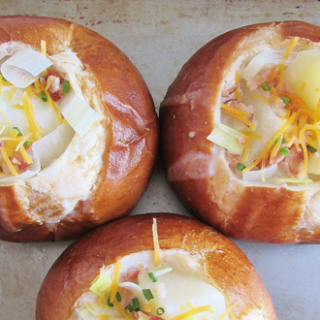 Leek-y Cauldron Soup
Alison Walsh
So often I feel like we overlook side dishes as an opportunity for creativity. I'll admit, I'm the queen of zapping frozen peas in the microwave and calling it done. But since this dish was going to represent all the magical goodness that is Harry Potter, I felt honor-bound to push my boundaries and turn a simple soup into something special. Luckily, I think I succeeded!
Ingredients
1 1/2

cup

potatoes

diced

1

lb.

bacon

3

leeks

large, white portion only

1

cup

butter

1

cup

all-purpose flour

1

quart

chicken stock

1

quart

heavy cream

salt

to taste

black pepper

10

pretzel rolls

large, round

sharp cheddar cheese

shredded (for garnish)

chives

shredded (for garnish)
Instructions
Peel and dice potatoes into 1/2-inch cubes. Boil potato cubes in water until tender. Fry bacon and chop.

Thoroughly rinse and dry leeks to remove any dirt. Dice white bulb of leek only. Move diced bits to a microwave-safe bowl with 1/2 cup of water and cook them on high in the microwave for about 2 minutes (or until tender). Drain.

In a large soup pot, melt butter on low heat. Whisk in flour. Cook, whisking constantly, for about three minutes. Add chicken stock 1 cup at a time, constantly whisking. Bring to a boil (still whisking), until liquid thickens.

Turn heat back to low and add the cream. Add leeks, potatoes, bacon, salt, and pepper.

Allow components to heat through, occasionally stirring the soup with wooden spoon to prevent it from bubbling or developing a skin. Don't let it boil, or the cream will start to separate.

While the soup warms, cut the middles out of pretzel buns with a small knife, about 3/4 of the way down. Spoon finished soup into bun bowls and garnish.
Notes
1 large potato yields about 1 1/2 cup diced potato.