Exclusive: Interview with Illustrator Jonny Duddle – Plus New Covers Revealed
With just over a month to go before the new editions of the Harry Potter series go on sale in the UK, Bloomsbury has revealed the final four stunning covers.
The wonderful new images, which can be seen at the bottom of this page, depict key moments in each novel. Although they share the same distinctive style, each image is vividly striking and stands alone through the strong choice of colors used. As the first three covers did, the images capture the magic of the books.
Ahead of this release, MuggleNet caught up with Jonny Duddle, the illustrator and children's book author, to discuss his new covers in an exclusive interview.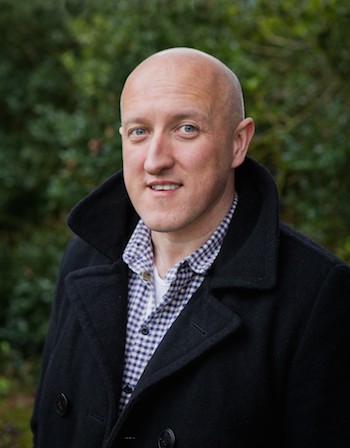 A digital artist, Duddle initially learned his craft over 10 years as a concept artist for computer games. After further illustrating projects and some film work, Duddle began developing his own series of children's books.
"I used to do a lot of illustration work, but as my own books sold better, I decided to stop." Then Bloomsbury called!
At first, the Potter project was just a trial. Along with a couple of other artists, Duddle submitted his Philosopher's Stone cover based on a brief that required the inclusion of certain characters and of course, Hogwarts. It was this design that secured the rest of the project for him – a very lengthy task that began in the new year and was still in progress when MuggleNet spoke with him last week.
However, before he could start, he had some catching up to do!
As a freelance artist with a young family, my house is full of books I haven't read yet. I bought a paperback box set [of the Potter series] a few years back but hadn't got around to reading them, except for the first one.
Reading the series for the first time, with illustrating them in mind, comes with a unique set of challenges. Knowing the briefs beforehand, he was "often waiting for certain characters or scenes to appear" before then going back to read and reread those sections to get the full picture. Along with much reading on trains, he has become well acquainted with the Stephen Fry audiobooks, but does he have a favorite?
"I enjoyed the Goblet of Fire for all the challenges and trials," but this could well change since his daughter is "near the age to begin reading them too."
Having not read the books, or seen the films previously, Duddle was in a unique position to approach the designs with a fresh eye. He avoided watching the films until after he'd developed each respective cover and generally stayed away from Potter imagery, although he had seen Kazu Kibuishi's Scholastic covers. This allowed him to continue with his other own fun and youthful style without being influenced by others.
At times he did need to seek inspiration: "I've based Harry on my neighbor's son," revealed Duddle. "I bought a wizard's cloak off the Internet and got him to pose in it." But all other characters have been inspired directly by Rowling's words, particularly his favorite.
"I love Hagrid!" The half-giant was the first character he tried drawing, and he has enjoyed having another go at illustrating him for the back covers. Similarly to the original Potter designs, each book will feature a different character on the reverse. Here we will get a chance to also see further Duddle's ideas for Ron, Hermione, Snape, and Dumbledore. As for what else the editions will feature, "I think there is a map, but that will be by another illustrator."
This is largely because the project has taken longer than he had expected. Once he accepted the job, Duddle was given the remaining six briefs, each consisting of two to three ideas per book. He would then sketch out a few ideas before sending them to Bloomsbury, which would then forward them to Rowling. This would then come back with feedback, anything from two hours to two weeks later. Sometimes it was a suggestion to work on the sketches, other times it was to go straight on to developing the artwork. Fortunately, working as a digital artist makes feedback and suggestions easy to deal with.
The phoenix on the [Chamber of Secrets] cover needed alterations to its tail. Being on an editable layer, this was easier to do than if it had been hand-drawn.
Less easy was a certain other magical creature.
I really wanted to draw the dragon but [it] turned out being the hardest. I've drawn them before but usually in a more cartoony way. The Hungarian Horntail had to be more realistic.
So what's next for Duddle, after this rare opportunity? "A break!" And then back to working on his own things. As we spoke, he was due at a festival where he will be reading from one of his children's books. "We'll be camping and dressed as pirates."
Finally we asked him which Hogwarts house he thought he would be sorted into. "I'll go with Hufflepuff because it's got a silly name and so have I!"
You can follow Jonny's work over on Facebook and his blog, where he hopes to be able to post a lengthy piece on developing the Potter covers (permission pending!) in the near future.
Want more posts like this one? MuggleNet is 99% volunteer-run, and we need your help. With your monthly pledge of $1, you can interact with creators, suggest ideas for future posts, and enter exclusive swag giveaways!
Support us on Patreon