Harry Potter: The Exhibition – Toronto, Canada
by MuggleNet · Published · Updated
The Exhibition was hosted at the Ontario Science Center in Toronto, Canada, from April 9, 2010, to August 22, 2010. This was its third North American stop and third stop overall.
There was an event with James and Oliver Phelps, who portrayed Fred and George Weasley in the Harry Potter films. Check out this video from the event!
Press Report - Shana Toor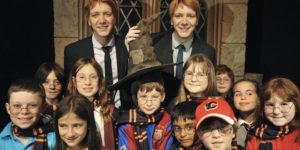 After watching an enthralling, climatic montage of movie clips from the first six Harry Potter films on a row of eight large screens, the group of us knew that experiencing the Harry Potter exhibition first-hand would quickly become one of the most unforgettable events we would ever participate in.
The Harry Potter exhibition media preview started at about 1 pm on Thursday, April 8, 2010, at the Ontario Science Centre. There was also something described as a "photo opportunity inside the exhibition" at 10 am, but unfortunately, I wasn't able to attend that event. Around 1 pm, we were taken down to the actual exhibition as a group. The people attending ranged from representatives from other HP fansites, representatives from several blogs, and reporters from local newspapers. The exhibition began with a sorting hat ceremony, and two people from our group actually got sorted into Gryffindor and Ravenclaw, respectively. After this, we passed through into a room where there were eight screens in front of us. They each played the same four to five-minute compilation of movie clips. At the climax, there was a shrill train whistle preceding the wall to our left being lifted and revealing a replica of the Hogwarts Express and the beginning of the exhibition with video-animated portraits along the wall. The sorting hat ceremony and the montage were considered the "pre-show" and it was a really great experience, especially since it set the mood for the rest of the exhibition. We were led in the walk-through mainly by Eddie Newquist, who is the Executive Vice President and Chief Creative Officer of the exhibition, and Robin Stapley, who is the Vice President of Creative Studio of the exhibition.
There were seven main settings in the exhibition: the Gryffindor Common Room, Hogwarts classrooms, Quidditch, Hagrid's Hut, the Forbidden Forest, Dark Forces, and the Great Hall. All of the sections in the exhibit were amazingly detailed and well designed. My personal favorite section was the Dark Forces, just because of the amount of visual and audio detail that was put into it. I would without a doubt say that all Harry Potter fans that have a chance to go to the exhibition whenever it comes to their area should definitely go; it's really an once-in-a-lifetime experience.
After a quick tour of the exhibition (we were allowed to go back inside later) we had a short Q&A session with the creators, Eddie Newquist and Robin Stapley. The first thing they mentioned was that it was a "thrill" to bring the exhibition to life. They said that it took about 16 semi-trucks to import everything across the United States border, and although they've been compiling props and items for the exhibition for over two years, the only challenge they've encountered so far is the large amount of stuff that there is to shift from place to place. When asked why they chose the Ontario Science Centre for the location of the exhibition in Canada, a point that they really emphasized was that "the foundation of science comes from inspiration; and just as Harry Potter has a long history of ideas, science also has a long history of ideas," so they thought that the Ontario Science Centre was an ideal location. Their favorite items in the exhibition are the creatures, such as Buckbeak and Fawkes. When pressed on why there weren't more interactive, hands-on things in the Harry Potter exhibit (such as the Quaffle toss and the being able to pull out Mandrakes), they replied by stating that a lot of the artifacts were quite sensitive, and that it's also nice to have a balance between interactive and non-interactive experiences at an exhibit. They haven't made any exact attendance estimates, but they said that they roughly expect hundreds of thousands of people to pass through the exhibition overall. They also mentioned that they will eventually "definitely have Deathly Hallows props/costumes," and that they are "€œalways going to be refreshing and updating"€ the exhibit as it travels with props/costumes from Deathly Hallows once they're available. After the Q&A with Eddie Newquist and Robin Stapley, James and Oliver Phelps came in and we got the opportunity to have a short Q&A with them as well.
Of course, one of the first few things they were asked about was the Wizarding World of Harry Potter theme park and Deathly Hallows filming. They stated that they weren't allowed to disclose much information about either topic, except that they've been filming some "cool action sequences"€ for Deathly Hallows. Their personal favorites from the Exhibition were of course the Weasleys' Wizard Wheezes joke shop items and Buckbeak. James' specific favorite joke shop item was the Puking Pasties, while Oliver preferred the Nose-Biting Teacups. James' favorite magical creature was the dragon, and Oliver's was the phoenix. James' favorite scene to film in the movies was the Yule Ball scene because of the decoration of the Great Hall and the fact that they had to learn how to waltz. Oliver's favorite scene to film was their first scene on Platform 9 & 3/4. Their favorite Harry Potter book is Prisoner of Azkaban, and they described how they had read it while on vacation a few weeks before they had their screen test for the movies. When asked about their future plans, they said that they definitely want to continue acting after Harry Potter is over. When they started to talk about Harry Potter fans, they expressed, "Potter fans are great in general." They commented about their fame after being involved with Harry Potter, and described how "there's always people saying hello."
Harry Potter: The Exhibition is open at the Ontario Science Centre in Toronto from April 9 to August 22.
Press Release
"HARRY POTTER™: THE EXHIBITION" CASTS A SPELL ON THE ONTARIO SCIENCE CENTRE
(April 8, 2010 – Toronto, ON) - To celebrate the opening of "Harry Potter: The Exhibition" at its exclusive Canadian venue, the Ontario Science Centre, Harry Potter film stars James and Oliver Phelps, who play Fred and George Weasley in the film series, brought their magical charm and humor to today's opening event. The exhibition offers fans a first-hand look inside the famous wizard's magical world, giving guests the opportunity to experience the amazing craftsmanship of hundreds of authentic props and costumes from the Harry Potter films.
The exhibition will be on view until Sunday, August 22, 2010. "The Science Centre seeks out temporary exhibitions that will appeal to our traditional audience and attract new visitors who may never have visited a science centre," said Lesley Lewis, CEO, Ontario Science Centre. "'Harry Potter: The Exhibition' holds just such crossover appeal. Our visitors will be inspired by the creativity, technology and attention to detail behind the artifacts and themed settings in this wonderful exhibition."
In a 1,300 square meter exhibit space, "Harry Potter: The Exhibition" features authentic film artifacts displayed in immersive settings inspired by the film sets—including the Great Hall, Hagrid's Hut and the Gryffindor™ common room. Visitors will also be able to try their hand at some of the activities experienced by students at Hogwarts™ such as pulling a screaming mandrake from its pot or tossing a Quaffle through a Quidditch™ goalpost.
"We are truly excited to unveil the exhibition and its incredible offerings to so many loyal Canadian fans," said Karen McTier, Executive Vice President, Domestic Licensing and Worldwide Marketing, Warner Bros. Consumer Products. "The magical and immersive settings bring the films to life and the Ontario Science Centre is the perfect location for the exhibition's debut outside the U.S." "The exhibition has enjoyed great success at the first two venues in the United States, and we couldn't be more thrilled to bring this one-of-a-kind experience to Toronto," said Eddie Newquist, Executive Vice President and Chief Creative Officer, Global Experience Specialists, Inc. (GES). "We have some wonderful surprises in store for guests at the Ontario Science Centre, and we look forward to seeing all the Harry Potter fans in Canada."
About the Exhibition
As visitors tour the exhibition, they will be taken on a journey into the world of Harry Potter through several themed vignettes based on iconic Hogwarts settings, and come face-to-face with some of their favorite props and costumes, all of which were hand-picked by GES, Warner Bros. Consumer Products and the filmmakers themselves. Some of the key artifacts on display include Professor Snape's robes; Professor Trelawney's crystal ball and exotic wardrobe; costumes and props from Professors Lupin™, Lockhart™ and Umbridge™; props and artifacts from the Yule Ball, including costumes from notable characters such as Harry Potter, Ron Weasley, Hermione Granger and Professor Dumbledore™; and life-size centaurs, a caged dragon, Buckbeak™ the Hippogriff and a giant Acromantula spider.
"Harry Potter: The Exhibition" was created by GES in partnership with Warner Bros. Consumer Products. After its run at the Ontario Science Centre, the exhibition will be displayed in other major cultural and entertainment venues, museums and institutions worldwide.
Hours and Ticket Information
The exhibition is a timed entry experience and will be open for visitors during the Science Centre's extended regular hours: from 10 a.m. to 6 p.m. daily up to June 25, and from 10 a.m. to 7 p.m. daily from June 26 to August 22, 2010.
On opening day, Friday, April 9, and Saturday, April 10, the exhibition will be open until midnight.
Tickets are now available online at www.OntarioScienceCentre.ca, by calling 416-696-1000, or by visiting the box office.
Admission to "Harry Potter: The Exhibition," which includes general admission to the Science Centre's exhibition halls, is $27.50 for adults; $23.50 for seniors and youth (ages 65+ and 13-17); $20.00 for children (ages 4-12). For Ontario Science Centre members, admission is $14 for adults; $12 for seniors and youth; and $10 for children.
About the Ontario Science Centre
The Ontario Science Centre opened on September 26, 1969, a global pioneer of the concept of an interactive science museum. Since then, well over 44 million visitors have passed through its doors. It is a model for over 2,000 science centers around the world, built since its inception. The Ontario Science Centre uses science as the lens to inspire and actively engage people in new ways of seeing, understanding and thinking about themselves and the world around them. The Ontario Science Centre is an agency of the Government of Ontario.
For more information, visit www.ontariosciencecentre.ca or call our box office at 416-696-1000.
The Ontario Science Centre would like to thank Tourism Toronto for its support of our out-of-town tourism marketing program.
About GES
Las Vegas-based Global Experience Specialists, Inc. (GES), a Viad Corp (NYSE: VVI) company, is a leading provider of exhibition, event and retail marketing services. Given its recent consolidation with Exhibitgroup/Giltspur and Becker Group, GES provides an even wider range of services, including turn-key official show services, cutting-edge creative and design, marketing and measurement services – all with an unrivaled global reach. GES partners with leading shows and brands, including the International CES, Spring Fair Birmingham, International Woodworking Fair, CONEXPO-CON/AGG and IFPE, Bell Helicopter, Genzyme, L'Oreal, Warner Bros., and Simon Property Group.
For more information, visit www.ges.com.
About Warner Bros. Consumer Products
Warner Bros. Consumer Products, a Warner Bros. Entertainment Company is one of the leading licensing and retail merchandising organizations in the world.