Little, Brown to publish "Very Good Lives" by J.K. Rowling in 2015!
I'm sure you all remember J.K. Rowling's Harvard speech in 2008, where she talked about the benefits of failure. Now, Little, Brown Book Group have announced that they are to publish an illustrated version of the speech, called Very Good Lives, in 2015.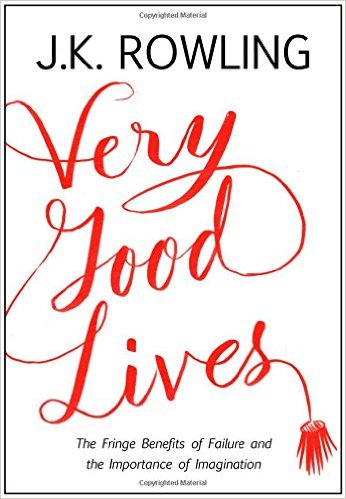 Sales of the book will
benefit Lumos, a charity organisation founded by J.K. Rowling, which works to transform the lives of disadvantaged children, and university-wide financial aid at Harvard University.
The Harvard President, Drew Gilpin Faust, said:
I have heard and read many commencement speeches, none more moving and memorable than J.K. Rowling's. Years after her visit to Harvard, people still talk about it—and still find inspiration in her singular evocation of the idea that living a meaningful life so often means daring to risk failure. What a powerful example she embodies, and what a remarkable gift her speech was, and is, for all of us privileged to hear it then—and to read it now.
The book will be released on April 14, 2015 in the UK and will be priced at £9.99.
If you haven't seen it yet, you can watch Jo's speech below:
Find out more about Lumos's current Indiegogo campaign here, which includes several Potter related perks. Today is Giving Tuesday, so if you can, make sure you donate today and help support the great work that Lumos is currently doing. Don't forget to get involved with their current digital awareness campaign, #LetsTalkLumos as well.
Are you excited for this book? Will you be pre-ordering? Let us know!