Potter DIY: "Monster Book of Monsters" Book Box
This DIY was submitted to us by Talar, who was inspired to re-create the infamous "attacking textbook" from Harry Potter and the Prisoner of Azkaban by watching someone else do so on YouTube. Great for Halloween or to make a conversation piece for your bedroom, we show you how to make one of your own! Talar's version of this project appears very kid-friendly and cute, which is excellent when looking for a fantastic project for younger fans!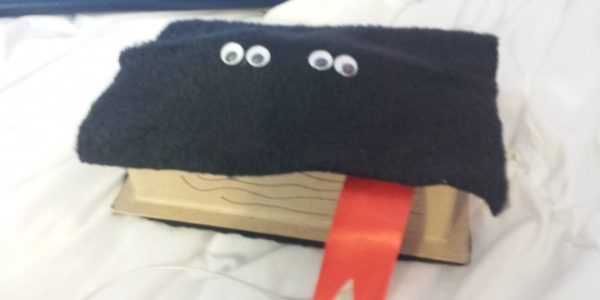 What You'll Need:
Book box or fake book (can be found at craft stores like Michael's)
Furry felt or fake fur
Craft/hot glue
Styrofoam ball (size depends on how large or small you want the eyes to be)
Googly eyes
Air dry clay or fake teeth (optional)
Red ribbon (optional)
Belt (optional)
Directions:
Step 1: Take your Styrofoam ball, and cut it in half. Don't worry if the edges are a bit rough; they're going to be covered by felt and are just being used to shape the eyes.
Step 2: Place both halves of the Styrofoam ball next to each other in the center of the cover and glue them down with crafting glue. Wait for the glue to completely dry before moving on to the next step.
Step 3: Grab your felt/fur and measure it out against the size of the book. You want to end up having some excess felt hanging over the edges of the book  a bit, so remember that while measuring. Once you've sized your felt, cut it out, and glue it over the book and Styrofoam halves.
Step 4: Take your googly eyes and place them, in pairs, over each of the halves of your Styrofoam ball. Since you'll be gluing these onto felt, and because googly eyes come off easily, be generous with the glue. Wait until the glue is completely dry to continue.
Step 5 (Optional): Glue your red ribbon to the underside of the top cover of the book; this is your little monster's tongue! It's a cute way to make this a little more friendly-looking if you're doing this project with younger children.
Step 6 (Optional): Get your clay out, and start molding teeth. Feel free to use actual fake teeth if you'd like – get creative!
Step 7 (Optional): Take a belt, and tie it around your book. If you'd like to leave the belt buckle undone, just glue the belt to the book.
Wasn't that easy? Check out our other projects on our main Potter DIY page!