WOULD YOU RATHER… Have Hermione's Beaded Handbag or Sirius's Two-Way Mirror? Let Us Know With #MNWYR
Before you answer, consider the following: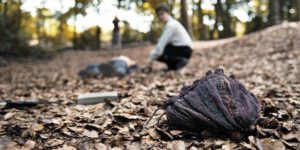 BEADED HANDBAG: A small handbag with an Undetectable Extension Charm on it so that it can hold many possessions such as a tent and mini-library. Read about on Harry Potter Wiki.
PROS
You can literally fit everything you want to bring with you in one, tiny bag.
Never be without your print copy of the entire Potter collection.
No more killing your back with a massive backpack.
It is "undetectable," so no one but the caster and whoever the caster confides in can know about it—even if a Buick is driven into the bag in front of their face. (See Harry Potter Wiki). Never worry about what size liquids to take on a flight or having to pay for checked baggage!
 CONS
You will likely find a way to fit everything in it.
As we see with Hermione, objects can get shaken up inside. Probably not a good way to carry breakables or Grandma's apple pie.
Though the purse is small, the insides can become so massive that it would be hard, without a Summoning Charm, to retrieve anything.
TSA may become suspicious of someone going on a long trip with only a handbag.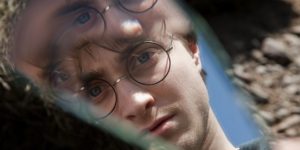 TWO-WAY MIRROR: Mirrors that are connected so that the possessors can communicate with one another no matter how far away they are. Read about on Harry Potter Wiki.
PROS
Free wizard-Skype—and you don't have to worry about a bad signal!
Being able to talk anywhere, no matter how far the distance.
The mirror also functions as mirror—multi-purpose.
The feeling of never being alone.
CONS
It is only two way, so the third (aren't all friendships trios?) would be left out.
Highly breakable.
There's no ringer to get the other person's attention.
There is also no way, except for covering the mirror, to keep the other person from looking/listening in at inopportune times.
There you have it, so WOULD YOU RATHER… have Hermione's beaded handbag or Sirius's two-way mirror? Respond in the discussion section or via Twitter with #MNWYR.