Potter DIY: The Ultimate Hufflepuff Bedroom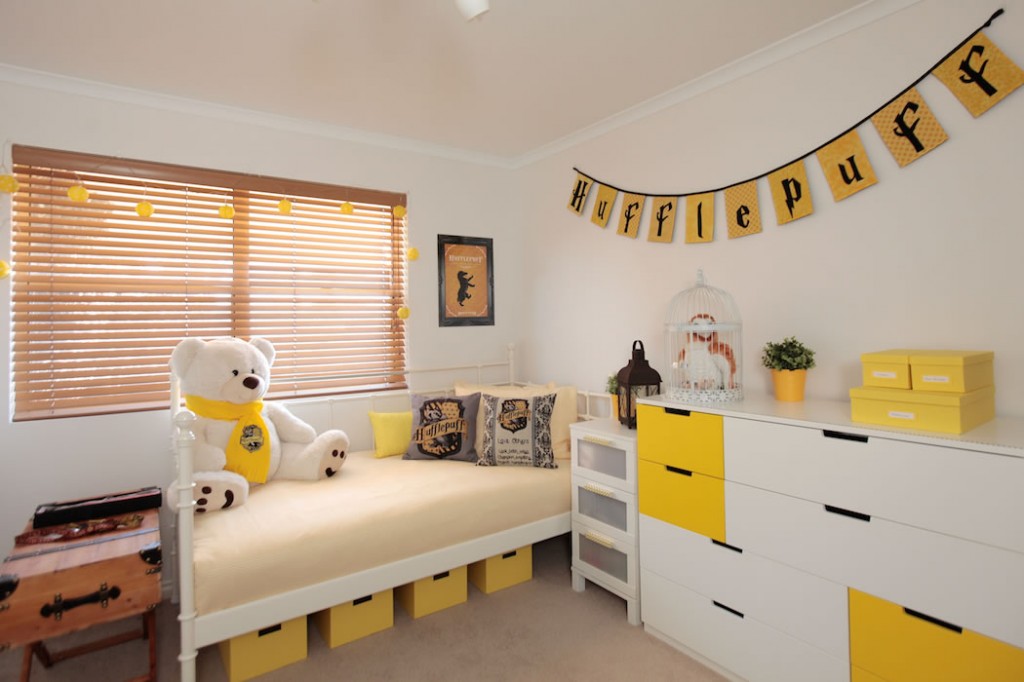 Your bedroom is personal. It's where you sleep, eat (okay, maybe this one is just me), and spend time with yourself. Your bedroom should be a reflection of who you are, and for Australian blogger Nici's daughter Isabel, her Hufflepuff-themed boudoir says it all.
As Nici mentions on her blog, "2014 will always be known as the year nine[-]year [-]old Isabel discovered Hogwarts." Nici decided to read Harry Potter to Isabel over a few days while she was home sick, and Isabel was instantly hooked.
The idea for the ultimate Hufflepuff bedroom was born after Nici began doing some research online for Harry Potter and Hufflepuff-themed gifts for Isabel's birthday. Nici and her partner Adrian, hooked on homemade Potter merchandise being sold on Etsy, began their journey (which would last them through Christmas Eve!) building their daughter's dream Hufflepuff-inspired hangout.
Check out these amazing photos! (courtesy of Adrian)
Nici started this project considering the things she could not change. The property she lives in is rented, so she knew she couldn't change the walls, carpet, or window dressings. She also didn't want to have to purchase completely new furniture, and as Isabel had some white furniture in good condition, so that was to stay as well. There were, of course, some things Nici wishes she could have changed (she notes a wooden feel would have been nice), but her results only prove that you can create something absolutely amazing no matter how "limited" you may feel.
Etsy searches were done for the word "Hufflepuff," and Nici began to collect some things like iron-on patches, cushion covers, an awesome bunting, and the "yellow-and-owl" print washi tape. She also purchased a wooden trunk from an online store called Ezibuy. She even went to Ikea with a friend and bought anything yellow she could find (plant pots, little fake plants, quilt cover, cardboard boxes, etc). She was also able to find a chest of drawers that included yellow drawer fronts.
As they say often with decoration, it's all in the details. Nici wanted to add a few extra pieces that would really set the room off. She sourced a lantern lamp from eBay, and her partner Adrian worked on securing some Hufflepuff posters with frames added to them, after having them printed and laminated. They even ordered a birdcage to simulate a pet owl for Isabel!
Adrian made banners for the wardrobe with some plain felt and iron-on patches and crafted a door for the bookcase with the same theme. They even set up a "password picture" on the outside of the bedroom door in a similar fashion to the way it looks on Pottermore!
Isabel really loves her room, and she's very proud of it. Nici notes that she believes the key to a successful starting point for a project like this is to work out the theme colors and go from there.
A great big thanks to Nici for sharing with us! Be sure to check out our other DIY features and project tutorials on our main Potter DIY page!