Harry Potter: The Exhibition – Paris, France
by Marion Delaunay
From April 4, 2015, to September 6, 2015, Harry Potter: The Exhibition was hosted at the Cité du Cinéma in Paris, France. This was its third European stop and 13th stop overall.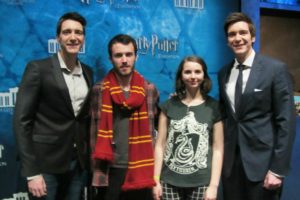 I had the chance to attend the Harry Potter: The Exhibition press preview in Paris on behalf of MuggleNet, was able to meet James and Oliver Phelps, and had a private tour of the exhibition with commentaries by MinaLima, the graphic designers of the Harry Potter series.
I was asked to be at the Cité du Cinéma by 5 p.m. for the blogger preview of the exhibition. I arrived there by 4:30 and was able to check in my belongings, meet some fellow reporters, and enjoy the atmosphere of the hall, which is towered over by a beautiful rendition of Hogwarts Castle on a large part of the wall, with lights illuminating some windows and all the movie posters near the entrance. As soon as we came in, we were immediately surrounded by that magical atmosphere, especially with the music from the Potter films.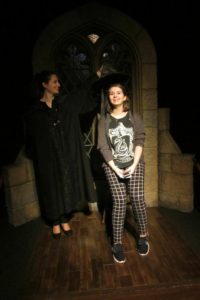 After wandering around for a bit and getting Sorted into Slytherin by the Sorting Hat, my fellow reporters and I were called back into the hall for the meet and greet with James and Oliver Phelps. It came by very quickly, and I wish I could've asked some questions. Unfortunately, there were many people waiting behind me and so little time. I asked James about his time in Paris and even advised him to go see some quidditch if he had some time.
MinaLima then led us through the exhibition, explaining the manufacturing of props and telling some stories. We started off with the Sorting Ceremony before viewing a montage of movie scenes. As soon as it ended, a curtain opened to reveal a part of the steaming Hogwarts Express. An employee dressed as a Gryffindor student led us to the next room, where a loudly singing Fat Lady welcomed us into the Gryffindor dormitory, which was surrounded by props belonging to Harry and his friends. The Marauder's Map was also there, and MinaLima explained that they had wanted to create something according to the characters' personalities and creativity.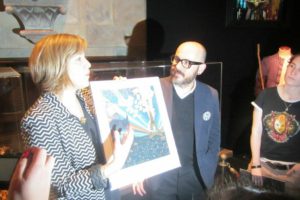 MinaLima then talked to us about various props they made, including Rita Skeeter's biography about Dumbledore, which they intended to make cheap-looking, with very thin, almost see-through pages. The making of the Weasleys' Wizard Wheezes products was also very interesting because MinaLima explained that it was heaven for them when they were told that they had to create products for a four-story joke shop and that there were absolutely no rules.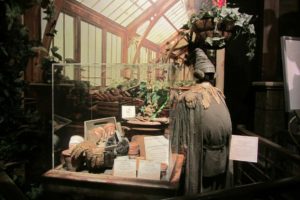 I was really pleased with the setting of little classrooms for each professor, with costumes, props, and even a fun game for the Herbology class, where you could pull out mandrakes just like in Harry Potter and the Chamber of Secrets. A bit further, we could see a display of beautiful Quidditch robes and broomsticks. The next room was Hagrid's hut, and I loved the fact that we had to actually go through it and see how everything was larger than what you would find in a regular house.
Then, everything went darker and even a bit colder when we entered a room where a part of the Forbidden Forest was displayed with some of its inhabitants, which led us to what would be my favorite room of all: the Dark Arts. I was totally blown away by how much detail the artists put into the creation of the Death Eater masks and outfits, and Voldemort's robe was also impressive. I also liked the path that led to the next room, with black, labyrinth-like walls with Death Eaters' wanted posters and long, creepy vines here and there. We were then greeted by a set of various props, including Sirius's Azkaban outfit, the Horcruxes contained in a glass case, and for the first time in the exhibition, some pieces from the real-life wizard chess featured in Harry Potter and the Sorcerer's Stone.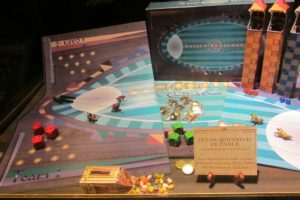 I really enjoyed the exhibition, especially because I was able to see all the props that were created for the background of the films. I recommend it to all Muggles and wizards, and I will certainly go back to spend some more time observing every little detail.