J.K. Rowling Provides Quote for Upcoming Illustrated Edition by Jim Kay!
Earlier today, BuzzFeed shared some new pictures from the highly anticipated illustrated editions of Harry Potter and the Philosopher's Stone and Harry Potter and the Sorcerer's Stone – as well as a new quote from J.K. Rowling and a video exploring Jim Kay's illustration process. The newly released images include a sketch of Harry and a second sketch of Hagrid whizzing through the skies on his motorcycle.

And who better to provide the cover quote for the book than J.K. Rowling herself?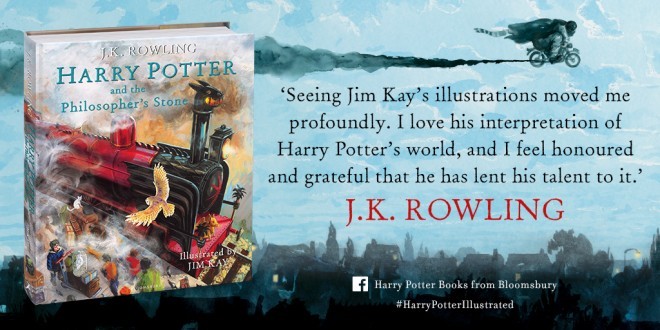 A video of Jim explaining how the illustrations were created has also been released, providing a fascinating and tantalizing glimpse into Jim's creative process – and the measures taken to make sure that the images appear convincing! Check it out below:
Finally, if you've been wondering whether to order the exclusive deluxe illustrated version from Bloomsbury, then take a look at the cover below – it might help persuade you:

Plus, if you pre-order before October 8, you get 10% off the cover price!
Remember, if you're in the UK you can pre-order the standard edition and receive a tote bag with your order. Get up to date with everything you need to know about the upcoming book here.
The illustrated edition of Harry Potter and the Philosopher's Stone/Sorcerer's Stone will be released on October 6 in the UK and US. Make sure you pre-order your copy now!
What do you think of Jo's words about the book? Have you pre-ordered your copy? Let us know in the comments!