Hogsmeade in Muggle Pennsylvania: A Review of Chestnut Hill's Annual Harry Potter Festival
This review is a combined effort of Lizzie and Rachael, with select photos from Social Media Staff Member Elayna.
Once a year, a small town in Pennsylvania undergoes a magical transformation into a modern day Hogsmeade to celebrate all things Potter. I attended this year's Harry Potter Festival October 16-17 in Chestnut Hill, Pennsylvania, to experience it for myself. Going on its fifth year, this celebration featured activities for fans of all ages while boosting the local economy.
The first festivity I attended was the annual Potter Pub Crawl, which featured six bars on the main road that were renamed for the weekend. Popular names included the Great Hall, the Three Broomsticks, and the Hog's Head. My favorite drink by far was the special apple butterbeer that of-age adults could purchase in a commemorative Potter mug. Attendees could stand in line for the outdoor bar or go inside to grab a table. The lines were long, but the drinks were worth it. While walking up and down the street, cosplayers could be seen all over, and nothing can compare to watching Hedwig and Neville jam out to "Uptown Funk" while sipping their butterbeer. The event ran from 7 p.m. to 9 p.m., but groups were hanging out until midnight or later, and the restaurant employees were in on the fun.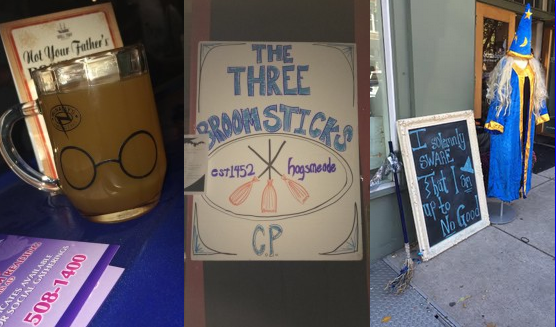 Saturday morning brought a new day filled with activities for the younger fans to engage in, but everyone came out to watch the "Hogwarts Express" arrive at the local train station. The crowds were so huge that even the local police could not contain the fans from trying to get a better look as cosplayers dressed as popular characters walked off the train in a mini parade style. A small opening ceremony followed with the crowd raising their wands to signal the beginning of a magical weekend.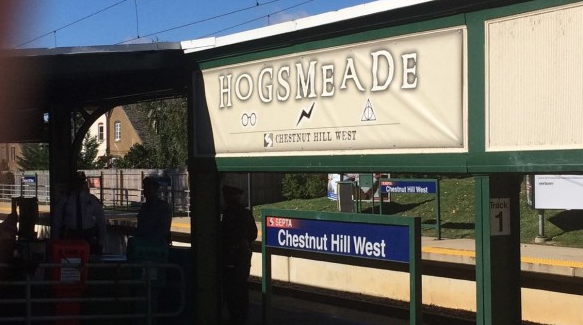 Due to the large attendance, navigating through the crowds proved to be difficult (and the line at Starbucks was one I yearn to forget). My friends and I took on the challenges as we participated in the scavenger hunt for the Horcruxes (collecting stamps at special locations for a prize). In addition, we found a small section with Potter and other fandom-related merch and one fun booth where people could participate in a slow motion photo booth. Throughout the street there were magical musical games and a live reading of Harry Potter and the Chamber of Secrets, and all of the shops were renamed and decorated to fit the weekend's theme.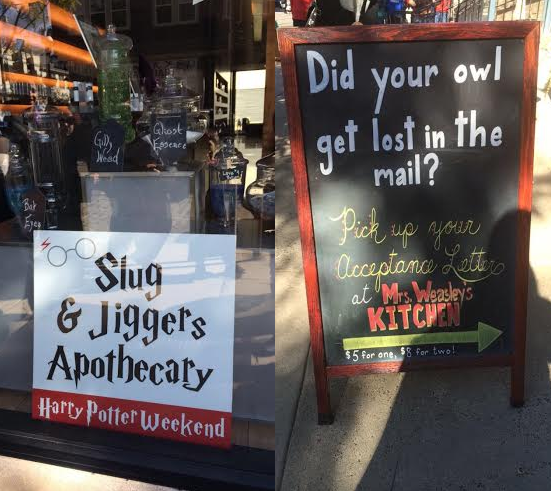 My second favorite thing about this festival was attending my first live Quidditch tournament up at the college for the Brotherly Love Cup. I witnessed some rough collisions between players and Snitches dressed as popular superheroes and villains (in one match we had Deadpool, in another the Flash). The Philadelphia Honey Badgers clinched the victory after a final match against Syracuse University.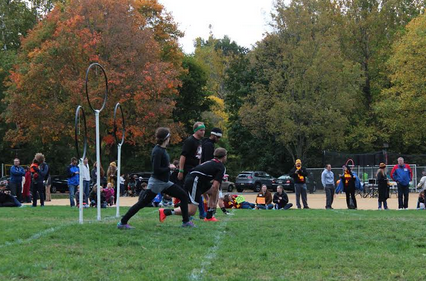 Later that night, Chestnut Hill College held its second annual wizard rock concert. This concert was hosted by the school's chapter of the Harry Potter Alliance with help from the Philadelphia chapter. The Nargeleptics and Harry and the Potters returned to Chestnut Hill College to put on an amazing show. There was no stage, which made everything feel more intimate. Harry and the Potters shows always get a little wild, and being able to stand right in front of them with no barrier was an amazing experience.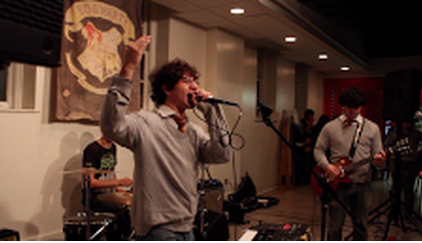 The weekend was a huge success, bringing fans together for fun and a way to celebrate their love of Potter. Despite the large crowds, my only hesitance to return would be a desire for more adult fan activities to be planned during Saturday afternoon. However, I look forward to going back next year and reuniting with friends for a simple two-day experience of wonder and entertainment.