Role Call: Christmas Cheers
In this week's Casting News, we gear up for the holiday season with several Christmas-themed projects. The trailer for the final episode of Downton Abbey was released, along with the first look at Eye in the Sky, which features Alan Rickman. Join us as we take a look at what your favorite cast members are up to this December!
The first trailer was released this week for Eye in the Sky, a drone warfare thriller starring Alan Rickman (Severus Snape). The film debuted at the Toronto International Film Festival and will be released in the spring of 2016, bringing a nail-biting plot to the big screen.
The film tells the story of an American drone pilot who navigates political, personal and ethical quandaries when he's drawn into an operation to take out a terrorist cell planning a suicide bombing. But he soon finds himself weighing the cost of taking innocent lives while being compelled to adhere to the chain of command.
We can't wait to see how the film plays out with such a fantastic cast. Watch the first trailer for Eye in the Sky below!
Bill Nighy (Rufus Scrimgeour) will once again join the Nordoff Robbins charity event this December. The charity, which focuses on music therapy, always hosts an evening of Christmas carols, celebrity readings, and musical performances. Nighy will once again be a guest reader along with several other celebrities and performers which will be announced soon. The event will take place on December 15 at St. Luke's Church in Chelsea.
On top of that, the Yorkshire Evening Post reported that Bill Nighy has recently backed Leed's-based theatre company, Blah, Blah, Blah. The company works mainly with schoolchildren, sending actors into schools, but it has recently begun to branch out. Nighy expressed his pride at joining the backing of the company, saying:
Theatre in education allows children to express ideas and themselves in a way that nothing else will. I've worked for and with children of all ages and I've seen how it can reach them…The blahs are an exemplary example of how successful it can be. I'm proud to have been invited to associate myself with such an important company.
The company is currently working on their production of Rummage!, which will allow children from ages five to eight to participate.
New photos from the recently-wrapped sci-fi thriller, Await Further Instructions, were released this week. The film stars David Bradley (Argus Filch) and has a creepy Christmasy theme, just in time for the upcoming season.
Await Further Instructions revolves around the Milgram family, who have gathered to celebrate Christmas, only to find a mysterious black substance has surrounded their house… Descending into terrified arguments, they turn on the television, desperate for any information. On screen a message glows ominously: 'Stay Indoors and Await Further Instructions'
Bradley will be starring as Nick's (Sam Gittins) unpleasant granddad in the upcoming film, but very little is known about the character at this stage. Check out the first creepy glimpse of Bradley in Await Further Instructions below!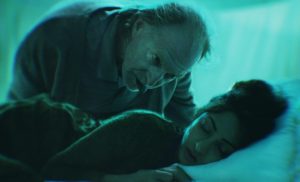 There is exciting news in the works from Christopher Columbus! Empire online reported that Columbus will be a part of a team putting together a family film called 12/24. This film will follow in the footsteps of Columbus's previous work: the first two Home Alone films, Gremlins, Jingle All The Way and Christmas With The Cranks.
The story [of 12/24] involves two brothers who find an old home video proving the existence of Santa. They then set a trap to catch him, but when it goes wrong and Santa gets injured, our boys have to save Christmas and embark on a worldwide present-drop operation with the help of Santa's elves.
The film is expected to be a Christmas classic and we will keep you updated as more news about the project surfaces.
Matthew Lewis (Neville Longbottom) appeared at Supernova this week, answering questions from fans in attendance. During the panel, Lewis talked about the decade he spent working on the Harry Potter franchise, even mentioning how Rupert Grint (Ron Weasley) would often burst into fits of giggles, making it difficult to film scenes.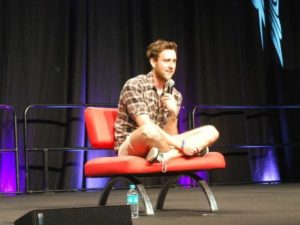 Lewis took time off from filming the BBC's Ripper Street to attend the convention and had nothing but good things to say about his time in Australia.
This week, the Irish Examiner reported on the first trailer for the last ever episode of Downton Abbey. The holiday-themed trailer features the Dowager Countess, Maggie Smith (Minerva McGonagall), while also hinting  at changes for the Crawley family and their loyal servants.
The last episode of Downton Abbey will air on Christmas Day and promises its fans love and loss, happiness and heartbreak.
Warwick Davis  (Filius Flitwick, Griphook) has launched a new digital business venture, My Digital Empire, aimed to help Britain's businesses with film and animation. The business venture will provide smaller businesses with a variety of different forms of content to meet the individual needs of clients. My Digital Empire will not only help to provide great content, but it will also equip businesses with the tools needed to reach and maintain the correct audience.
That's a wrap on this week's Casting News! Tell us what you think about this week's roles and projects! What is your take on Chris Columbus's new Christmas movie? Are you sad that Downton Abbey is coming to a close? We want to know!