"Fantastic Beasts" Roundup: Teasers, Ilvermorny, and Vegan Wands
Thanks to the Celebration of Harry Potter taking place this weekend in Orlando, there's been a sudden slew of Fantastic Beasts and Where to Find Them news.
We learned more about the details of Newt's wand from the prop master himself, Pierre Bohanna, perhaps helping to confirm that vegan wand theory.
EXCLUSIVE: Newt's wand has elements of BONE, LIME, and SHELL. #FantasticBeasts #HPCelebration pic.twitter.com/HGzPTzVqbQ

— MuggleNet.com (@MuggleNet) January 30, 2016
Pierre is Head Prop Maker on the Fantastic Beasts film and talked a little about Newt's suitcase.
Pierre Bohanna is also Head Prop Maker on @FantasticBeasts; will he talk about the upcoming film? #HPCelebration pic.twitter.com/gNrT53WzRB

— WB Tour London (@wbtourlondon) January 31, 2016
Pierre and his team have spent hours working on Newt's all-important briefcase for @FantasticBeasts! #HPCelebration pic.twitter.com/ZcbUVr0bdz

— WB Tour London (@wbtourlondon) January 31, 2016
The name of the North American wizarding school was revealed by Pottermore. The school is called Ilvermorny, and a close-up of the school's position on the map of wizarding schools across the world can be seen below.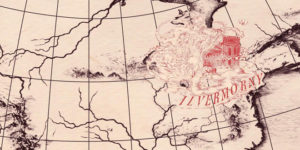 Of course, Newt has already left Hogwarts by the time he turns up in New York in 1926, but J.K. Rowling did tell us that the North American school might feature in the film, and we're looking forward to finding out where exactly the school is and more about its history.
Jo delivered a tantalizing teaser about more information coming about the school.
Again: keep watching @Pottermore… https://t.co/sb5rdzXIXR

— J.K. Rowling (@jk_rowling) January 30, 2016
Most excitingly, a teaser featuring behind-the-scenes footage and interviews with cast members Eddie Redmayne (Newt Scamander), Alison Sudol (Queenie), Katherine Waterston (Tina), and Dan Fogler (Jacob), as well as David Yates and David Heyman, was released. You can watch it below:
Elsewhere, Eddie revealed that filming for Fantastic Beasts had wrapped.
He also features in a video where he talks about his Oscar nomination for The Danish Girl.
In casting news, actor Edd Osmond was cast as a Demiguise.
Casting News: Actor Edd Osmond has been cast as a Demiguise in #FantasticBeasts pic.twitter.com/FUuJofdmXD

— Fantastic Beasts Fan (@FBAWTFTmovie) January 25, 2016
A number of other cast members have appeared on the cast list – including Todd Boyce as an anouncer, Ronan Raftery as Laurence, Sean Cronin as a criminal, Solomon Taiwo Justified as a wizard, James Rumell as a newsroom reporter, and Abi Adeyemi as an international royal dignitar. 
If you're looking for a way to while away the days until the release of the film, then you can get your hands on the newly released second Harry Potter coloring book, Magical Creatures.
And finally, the fourth episode of MuggleNet's Fantastic Beasts podcast, SpeakBeasty, was released today. Listen to it here.
That's it for this week's Fantastic Beasts roundup!
What was your highlight? What was your favorite moment in the teaser video? Let us know in the comments!