First Look at Matt Lewis in "Happy Valley"
The second season of BBC drama Happy Valley is due to start next week, and last year, we learned that the series will feature Matt Lewis (Neville Longbottom) as well as Shirley Henderson (Moaning Myrtle).
With the air date just around the corner (February 9, BBC2), we're finally getting some more information about the series, as well as our first glimpse of Matt in character. Check out the still below.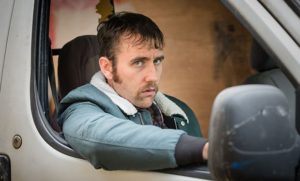 As well as getting a first look at Matt's character, we've also learned a little bit more about the roles that both actors are playing.
Henderson plays
fragile Frances Drummond, who becomes obsessed with the manipulative murderer.
Henderson elaborated on the role in a Q&A.
Frances is a woman who observes life rather than participating in it fully. She seems a little lost to me and could almost disappear into the wallpaper. But she is watching, and she has reached a point in her life where being alone and having all her feelings hidden away is no longer enough for her. Something has to give.
Matt, meanwhile, plays a character called Sean Balmforth. We haven't learned an awful lot about his role, but he finally revealed a little bit more about the character in a BBC interview.
Sean has had a bad start in life, and it's defined him in ways that are out of his control. He's not an alcoholic, as in he doesn't need it to function, but he is well on his way to becoming one. He's angry and lost and finds it difficult to express his emotions, which when coupled with his drinking can become a tinderbox.
Matt also talked about the challenges of preparing for this role.
It was tough to get into his mind. I can't say too much without giving away parts of the story that we will discover along the way with Sean, but he's in a very dark place, and it gets worse for him throughout. Getting into the mind of somebody like that with those problems and those thought processes was daunting. Luckily, I had a superb cast and crew around to help out.
You can watch a trailer for the second season below.
You can visit the show's website to find out more. Season 2 of Happy Valley will begin on February 9, BBC2, at 9 p.m.
Will you be watching Happy Valley when it airs next week? Did you see the first series? Are you looking forward to seeing Matt play a rather different role? Let us know in the comments!