J.K. Rowling Recounts Horrific Circumstances Leading to Lumos Founding
We all know about the vital work that Lumos does in bettering the lives of vulnerable children and their families, and in a special report released today, the Sunday Times recounts the events that motivated J.K. Rowling to found the charitable organization.
It all began in 2004, when Rowling saw this photo in the newspaper: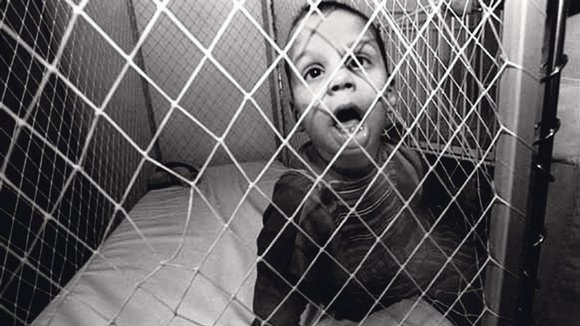 This is Vasek Knotek, a disabled young boy from a Czech care home. He was kept in a cage, and being taken out once a day to be cleaned was his only human contact. The accompanying description detailed the squalid conditions Vasek and other children were kept in made Rowling's stomach turn.
The image of that boy's face marked me. I couldn't get it, or the story, out of my mind. He was a very young disabled child, who was being kept in a cage bed around the clock. The journalist described an environment you hoped had vanished with the Victorian asylums. I couldn't think of a more vulnerable, powerless person than that little boy.
The Sunday Times goes on to describe how Rowling immediately took action:
After reading about the caged boy, Rowling ripped the page from [t]he Sunday Times. Next day she photocopied it 50 times and wrote letters to anyone she thought could help: Scottish MEPs, the Czech ambassador to Britain, the Czech prime minister. She talked to Baroness Emma Nicholson, who had set up a charity in Romania, where children's homes 'were like Hieronymus Bosch's vision of hell', and accepted her invitation to the launch of a lobbying group in Bucharest. Then she took her husband, Neil, a doctor, for a long walk.

She was pregnant, had a 10-year-old and a toddler and was midway through writing Harry Potter and the Half-Blood Prince, the sixth in the Hogwarts series, 'a novel for which rather a lot of people were waiting impatiently'. She had several other charitable commitments: in other words, she was overloaded. Neil had already lectured her about keeping things manageable, but when she had poured out her story about the children in cage beds, he said, simply, 'Yes, you've got to do this.'
Lumos was born. Today's article continues with recounting the difference the organization has made in Bulgaria, specifically its work with a state-run institution called Krushari. Over four dozen children had died in the home's care in the previous decade before Lumos intervened, the children kept there neglected and living in squalid conditions. A large number of these children were disabled, often taken from poor families who had few resources to deal with a special needs child. Even if families wanted to care for their children themselves, there was no infrastructure that would allow them to do so.
Here is the chilling report of an agent sent by Lumos when they first began their work:
Cath Irvine, a speech and language therapist from Somerset, remembers her first visit to Krushari. She was part of a rescue team sent in by Lumos — at the Bulgarian government's request — in the wake of the Helsinki report. What she recalls most vividly is the silence: 'It didn't smell, because they were expecting us. I walked into Block Two,' she says. 'There were 43 children in there — well, I say children, the oldest was in her thirties — and the place was just silent. Some had grown too big for their cots and had to lie with their legs permanently bent. All of them, even the adults, were bottle-fed. I went around, saying, "Hello." A member of staff followed me, saying, "This child has beans for brains, this one does nothing but lie there all day …" but you could spot the children who had a spark because they just lit up.'
Lumos's work helped lead to the closure of Krushari, but the effects of mistreatment are lingering for the children kept there, as detailed by the experiences of Georg Petrova and his family (read the original article for more details of Georg's experience). And there's still plenty of work to be done.
Lumos has been going strong for ten years now, and fans in the Potter community have witnessed the progress the charity has made – Rowling has shone a light on some of the darkest places of our world. But it's important to remember that the work is far from over, and there are still many children who need our help. The author reminds us that we need to keep advocating for them:
People often mention Romania; they remember the appalling footage of children kept in subhuman conditions, but they tend to assume it's over, the problem's been solved. Nothing could be further from the truth. The massive scale of child incarceration beggars belief. We know there are at least 8m children living away from their families and that 80% of them have parents or close family who want to care for them. Getting these facts across is a constant battle.
Please consider making a donation to Lumos today so that they can continue to help children who need help the most, and read the original article from the Sunday Times here. If you can't donate, please share information about Lumos with your friends and family – only together can we work some magic to ensure that these horrific circumstances are a thing of the past.