J.K. Rowling's "Harry Potter" Chair to Be Auctioned
Ever dreamed of owning a priceless piece of Harry Potter history?
The dining chair that J.K. Rowling sat on to write the first two Harry Potter books is due to go up for auction for the third time at the end of the month. Sadly, it might be out of the price range of most fans – the Guardian reports that bids for the chair are set to start at $45,000.
The chair was first put up for auction in 2000 after Harry Potter and the Goblet of Fire was published and was hand decorated by Jo herself. The chair, which is painted in gold, rose, and green, is also inscribed, and reads:
You may not find me / pretty ~ but / don't judge / on what you see. […] I wrote / Harry Potter / while sitting /on this chair.
The chair was originally sold to raise money for National Society for the Prevention of Cruelty to Children and was bought for $23,475. It was later sold again in 2009.
You can see an image of the chair below, which shows Jo's signature, as well as the writing over the chair and those familiar lightning bolts.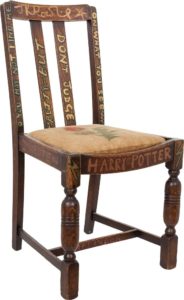 The director of rare books at Heritage Auctions, James Gannon, who is in charge of the auction, said,
For me, what's important about the chair is that [Rowling] basically created a unique artwork that's self-reflexive. It's all about her creation. There's not that much in Harry Potter world that's very valuable or very rare because the books were so big so quickly, so after the first couple of books, the first editions were quite large, and I think, by the end, they were printing like 8m or 10m copies of the first edition.
The chair also comes with a handwritten letter by Jo, written in 2002 before the previous auction. She wrote that
My nostalgic side is quite sad to see it go, but my back isn't.
The chair will be able to view in New York this month at Heritage's Park Avenue gallery, and bidding begins on March 18. Read more about the chair and the upcoming sale here.
You can find out more about rare Harry Potter books here, as well as more about Lumos, Jo's charity, here. Over the last few years, Jo has auctioned a number of exclusive Harry Potter-related items, including a special edition of The Tales of Beedle the Bard to raise money for the charity.
Would you buy the chair if you could? What priceless Harry Potter artifact would you love to own? Let us know in the comments!