Who Wore It Better: Rita Skeeter or Beyoncé?
Top of the mornin' to ya! Gilderoy Lockhart here with another edition of "Who Wore It Better?" It is the month of the three Gs; green, Guinness, and gingers. Just the other day I ran into a fellow in the pub who hails from Ireland. He was already in the spirit of St. Patrick's Day, sporting a thick, Irish drawl and a full, red beard. Of course, I found this all very amusing and told him how very appropriate it was that he should be out and about this month to remind us all of the upcoming holiday. He seemed not in good cheer, however, and muttered something incoherent to me and walked out of the pub. Unfortunately, since he was quite getting me in the mood for the day of celebration. Ah, well. I found the spirit anyway since I am not easily quashed, and I am, as we speak, wearing a delightful set of shamrock-spattered robes. Let us continue this theme of everything green by introducing this month's pairing.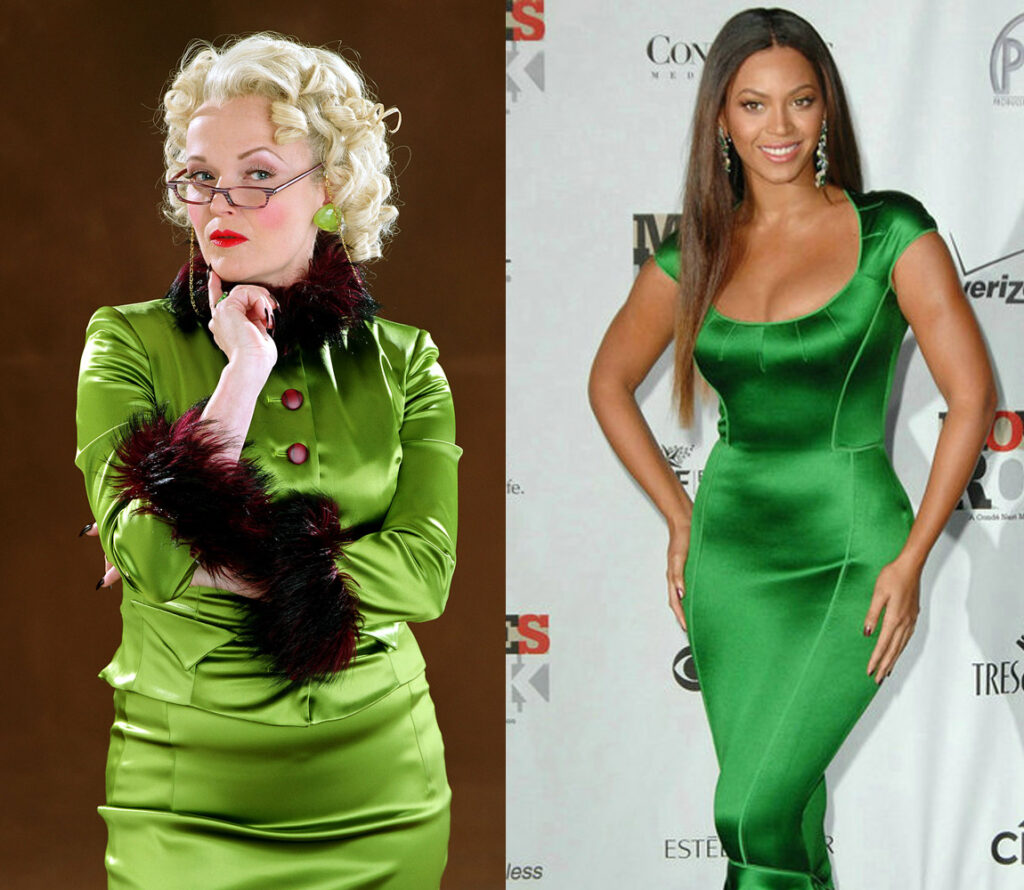 On the left is author and former Daily Prophet reporter Rita Skeeter, and on the right is Muggle singer Beyoncé. I know I do not need to point this out to you since it is overwhelmingly obvious, but both of these ladies are sporting copious amounts of green. Skeeter has opted for an acid green color, while Beyoncé has chosen a lime green gown. While neither is quite as up to par as my own shamrock robes, I must say that Beyoncé looks quite flawless. Skeeter's sleeves and collar of ostrich feathers bring about a horrid taste in my mouth, and I feel as if I must avert my eyes for fear of being corrupted by this abysmal sense of style. I suppose there is a reason why she spreads her stories through her quill instead of stepping from behind her parchment and into the spotlight. We aren't all cut out for the never-ceasing physical perfection that fame demands. I hereby declare Beyoncé as the winner of this month's match-up. Now bring out the firewhiskey, and as always, stay radiant!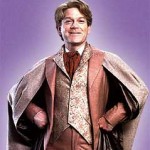 Gilderoy Lockhart
Order of Merlin (Third Class)
Five-Time Winner of Witch Weekly's Most Charming Smile Award
Check out all of our "Who Wore It Better?" posts.
Did you know that MuggleNet is 99% volunteer-run? With your monthly pledge of $5, you can provide monetary support to our volunteers while becoming eligible for exclusive swag giveaways!