First Look at Rupert Grint in "Adolf the Artist"
Back in October, we reported that Rupert Grint would be appearing in a new film called The Artist. Now, news has emerged that the film has been re-titled Adolf the Artist. In the film, Rupert plays Hitler's childhood friend, August "Gustl" Kubizek, a musician and conductor.
As well as the change in title, a first glimpse at Rupert in character has been released, alongside a synopsis for the film. You can see the image below, thanks to Rupert-Grint.us.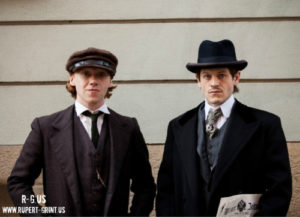 And here's some more about the film:
Adolf Hitler has been portrayed on screen many times – but never like this! Adolf the Artist is a satirical drama starring Iwan Rheon (Game of Thrones) and Rupert Grint (Harry Potter), telling the little-known tale of a young Adolf, before politics and before war, when all he could dream about was becoming a famous painter.

Historically accurate, this imagining of the young pre-tyrant is comedic in its approach and sees him ata [sic] crossroads in his life, when 'his struggle' was purely about not being a good enough artist. In 1907, an 18-year-old Hitler applied to the prestigious Vienna Academy of Fine Arts, certain that his genious [sic] would be recognized. It wasn't. He resolved to re-apply the following year and moved to Vienna, hopeful that living amongst artists would rub off on him. Not one to let himself go, Hitler found the opium-taking, schnapps-swilling, sexual experimentation of his fellow artists somewhat irritating, and as he'd not yet developed into a demagogic ranter, no-one listened. They didn't have to. Yet. This story follows Adolf in the run-up to retaking the entrance exam, burdened by temper tantrums and an oddball dress sense and desperately trying to improve as an artist and gain recognition.
The film will be released on Sky Arts, although a release date has not yet been confirmed. Watch this space for more details!
Is this a role you're looking forward to seeing Rupert play? Will you be tuning in when it's aired? Let us know in the comments!