Role Call: Do You Remember Me, Batman?
Welcome to April! In this week's Role Call, we get extended looks at several of our favorite Potter cast members in their upcoming roles, weaving through magical realms and dramatic realities. It has been a long week, but these projects will definitely not disappoint. Stick around and check out this week's Casting News!
Did you see the extended trailer for Alice Through the Looking Glass? Raise your hand if you got chills at the sound of Alan Rickman's (Severus Snape) iconic voice! *Shoots hand into the air"
The trailer gives us an extended look at the magic to come with this movie, while also giving us a glimpse of Helena Bonham Carter (Bellatrix Lestrange) and of course, Alan Rickman. The movie is scheduled to be released May 27, but you can get your temporary fix of the film below!
Hello, Alice! Watch the new trailer & go #ThroughTheLookingGlass on 5/27! Get tix @Fandango: https://t.co/aRihNOCdxShttps://t.co/CN4JfGSSFp

— Walt Disney Studios (@DisneyStudios) March 30, 2016
Clémence Poésy (Fleur Delacour) recently starred in a short film for Vs. Magazine that follows her pacing, sleeping, and sprawling in a London hotel room practicing these lines from a script:
Do I remember you? Of course I do. Do you remember me?
This short film was produced as part of Vs.'s 10th anniversary celebration, launching in the attempts to help promote its new digital platform. Obviously, Poésy does a phenomenal job as she already embodies everything that is French and chic. Check out the film below and then tell me she is not perfect.
Domhnall Gleeson, the pride and joy of the ginger community, is set to star in The Little Stranger, a film adaptation of Sarah Waters's best-selling novel. The film will be directed by Lenny Abrahamson, who directed the Oscar-nominated film adaptation of Room. The film will reunite Gleeson and Abrahamson from their past work on Frank, a quirky comedy-drama released in 2014. The plot of the film is as follows:
One post-war summer in his home of rural Warwickshire, Dr Faraday, the son of a maid who has built a life of quiet respectability as a county physician, is called to a patient at lonely Hundreds Hall. Home to the Ayres family for over two centuries, the Georgian house, once impressive and handsome, is now in decline… Its owners – mother, son, and daughter – are struggling to keep pace with a changing society, as well as conflicts of their own.

But are the Ayreses haunted by something more sinister than a dying way of life? Little does Dr Faraday know how closely, and how terrifyingly, their story is about to become intimately intertwined with his.
It is not officially clear which role Gleeson will be playing, but I think it is safe to assume that it will be a leading role. Production of The Little Stranger will begin this summer and we are very excited to see what Abrahamson brings to the screen as well!
Besides gearing up to star as Hermione Granger in Harry Potter and the Cursed Child, Noma Dumezweni has also joined the cast of The Roof, a new short film also starring Jude Law and Ian McKellen. As far as what this short film is about, it can be summed up in one simple sentence:
[The Roof] is a brief comedy about an unexpected visit from a legendary theatre maker and his legion of fans.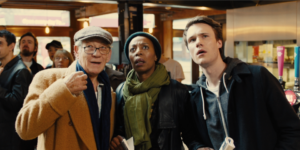 If that doesn't entice you enough, you can watch The Roof in full below!
Nerdist released a trailer last week for the upcoming CG-animated KingsGlaive: Final Fantasy XV. This highly-anticipated film is based off of the popular video game and its magic realm. Featuring Jon Campling (Death Eater) as King Regis, the movie will follow the dark and epic plot of the video game:
The magical kingdom of Lucis is home to the hallowed Crystal, but the menacing empire of Niflheim will stop at nothing to make it theirs. War has raged between the two for as long as most can remember. King Regis of Lucis commands an elite force of soldiers dubbed the Kingsglaive. Wielding their king's magic, Nyx Ulric and his fellow glaives stand before the crown city of Insomnia, fighting to stay the inexorable advance of Niflheim's imperial army.

Before the overwhelming military might of the empire, King Regis can only salvage his kingdom by accepting an ultimatum—he must cede all lands outside the crown city, and see his son, Prince Noctis, wed to Lady Lunafreya, the former princess of Tenebrae now captive of Niflheim.

As the war of wills rages, the machinations of Niflheim transform Insomnia into an awe-inspiring battleground, pulling Nyx into a struggle for the very survival of the kingdom.
Jon Campling posted some photos on Facebook of his character in the upcoming film, which you can check out below! Notice the first picture mimics (kind of, sort of) his iconic Death Eater pose that he demonstrates in Harry Potter and the Deathly Hallows – Part 1 when he stops the Hogwarts Express.
A final release date for Kingsglaive: Final Fantasy XV is unknown, but it is expected to be released this fall. Watch the epic trailer below and let us know how you think the movie will compare to the video game!
Did you catch Maigret Sets a Trap on ITV on March 28? The film, which stars Fiona Shaw (Petunia Dursley), is based on Georges Simenon's French detective who has appeared in 75 novels and 28 short stories between 1931 and 1972. Sir Michael Gambon (Albus Dumbedore) himself has even played the famous sleuth. The main premise of the film is as follows:
A killer stalks and murders young women in the Montmartre district of 1955 Paris, a city still struggling to its feet after the Second World War. But the police, led by the dour, distant, thoughtful Jules Maigret (Rowan Atkinson), are lost. No leads, no clues, nothing. As the newspapers bay for information and a resolution, Maigret baits a trap to lure the killer.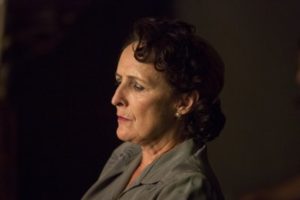 Fiona Shaw, who is accompanied by a slew of famous British faces in the film, plays Mme. Moncin, the domineering mother of the chief suspect in the case. See the preview for the film below!
If you missed Maigret Sets a Trap, you can watch it here. Don't miss the second film in the series, Maigret's Dead Man, later this year!
We reported in 2014 that John Hurt (Ollivander) was to star in The Man Who Killed Don Quixote and that filming was due to start that year, but unfortunately this project has met delay after delay. It was finally reported earlier this week that the production for this film will begin in September, but unfortunately, it is not all good news.
Many of the film's delays were caused by Hurt's failing health, as he was diagnosed with cancer last year. It is for this reason, along with many unexplained insurance issues, that he might no longer be involved with the project. We'll keep you updated on this as production comes closer, as all of this is a guessing game at this point.
The new trailer for The LEGO Batman Movie was released last week, giving us an inside look at the film, scheduled to be released next year. The movie features the voice of Ralph Fiennes (Voldemort) as Alfred, who you can see in the trailer below listing off all of Batman's previous cinematic achievements.
This new LEGO movie follows Batman (as you might have gathered from the title), who apparently always wears his bat mask, even when he is prancing around in his robe. As I mentioned before, this movie isn't set to come out until next year, but I think we can expect some awesome humor, just going off the trailer alone.
Entertainment Weekly recently posted an article outlining David Yates's (director of Harry Potter and the Deathly Hallows) decision-making process in casting Jane for The Legend Of Tarzan. In the article, Yates emphasizes the importance of a strong female lead in the film, strong enough to oppose Tarzan himself. He ended up casting Margot Robbie as Jane because she had untapped chemistry with Alexander Skarsgård, who plays Tarzan, while also seeming to be able to fend for herself in the Congolian wilderness.
If you enter the jungle with anybody, you want to go with Margot Robbie, she's practical, and she's smart, and she's resourceful. And she can take care of herself.
The highly-anticipated Legend Of Tarzan will hit theaters July 1. If you missed the trailer or just want to binge-watch it until July, check it out below.
That wraps up our first Casting News for April! What films can you absolutely not wait for? We want to know! Leave your answers in the comments below!