Role Call: Lady and Her Fans
It's that time of the week again! Want to find out which one of your favorite Harry Potter alum are in the upcoming animated film Trolls? Feel like living in a van with Maggie Smith? We've got it all here in this week's Role Call!
It's almost time, everyone! Alice in Wonderland: Alice Through the Looking Glass hits theaters on May 27, and in preparation for the release, Disney has released several movie posters. There are A LOT of Harry Potter alum in this film, the most notable being Alan Rickman as Absolem and Helena Bonham Carter as the Red Queen. Along with these two favorites, the film also stars Stephen Fry (voice of UK Harry Potter audiobooks) as the Cheshire Cat; Timothy Spall (Peter Pettigrew) as Bayard, the Red Queen's bloodhound; Toby Jones (Dobby) as the voice of Wilkins; Frances de la Tour (Madame Olympe Maxime) as Aunt Imogene; and Rhys Ifans (Xenophilius Lovegood) as the Mad Hatter's father, Zanik Hightopp.
Check out the new posters below, and don't forget to cheer on your favorite Harry Potter alum in Alice Through the Looking Glass on May 27!
Any Fear the Walking Dead fans out there? The second season of the popular show premiered on April 11, featuring our very own Frank Dillane (Tom Riddle in Half-Blood Prince). In a recent interview with Radio Times, Dillane recounted his experience working on Potter, while also discussing his role in Fear the Walking Dead.
Even though Dillane was in the famous Harry Potter movies, he doesn't get noticed by fans because he had blue contacts and and a wig on during his stint as Tom Riddle. Notice the side-by-side below!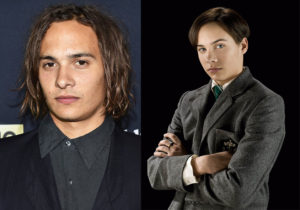 Even though Dillane is now starring in Fear the Walking Dead, he mentioned:
It's funny. Whatever I do, I'll always be remembered for Tom Riddle! It was great to play such an incredible part, but it was a very short scene. I wasn't in the film for that long.
In Fear the Walking Dead, Dillane stars as Nick, a troubled teenager with a drug problem who wakes up one day in the middle of a zombie apocalypse.
Nick is, essentially, at the start of the show, already living in his own apocalypse. When you are already living on the outskirts of society in anyway, when society falls, you are the closest to understanding how to cope.
In the second season of Fear the Walking Dead, Nick takes to the sea with his dysfunctional family to escape the undead, but much of the second season focuses on the collapse of society as a whole.
Nick has a different idea of what it is to be dead, who these people are that are walking and haunting us, and what it means, spiritually as much as anything else. I don't know the bible too intimately but it was very strong similarities. It says that before the end the dead will rise and walk the earth and the damned will stay there with them. In season two, Nick is more inquisitive about what is going on.
As an avid Walking Dead fan, I have been debating on watching this companion show for months, and with Frank Dillane playing a leading role, I think it was just decided for me. If you missed the premiere of Fear the Walking Dead, you can watch full episodes on AMC. Enjoy the season 2 promo below!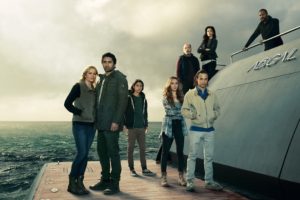 Lady in the Van, which features the legendary Dame Maggie Smith (Minerva McGonagall), was released on DVD last week! Maggie Smith stars as Mary Shepherd, a quirky homeless woman who lives in a van on the streets of London.
Mary is what we call cranky and a curmudgeon. She feels everyone should do what she wants, whether it's not playing their music or running errands for her. The newest resident on the street is Alan Bennett (Alex Jennings), a writer who just bought a house for himself and who bikes to town. He is a kind man who takes pity on this old woman. After a while she convinces him to let her park her van on his driveway. He doesn't have a car so the driveway is not being used, so why shouldn't she have this little area for herself? He reluctantly agrees. She plans on staying there for three months but ends up staying 15 years.
In honor of Maggie Smith and her many talents, I have taken the liberty of including some images from the film, along with the trailer.
The film is truly an eccentric masterpiece and is a must-see for any Maggie Smith fan. The DVD has several bonus features along with some deleted scenes, so rush out to the nearest store and buy The Lady in the Van!
Harry Melling (Dudley Dursley) will star in King Lear at the Old Vic as Gloucester's son Edgar. Having already been in King Lear as the Fool opposite Frank Langella's Lear at Chichester and in Brooklyn three years ago, he is totally prepared to play this role. Melling is currently starring in Hand to God at the Vaudeville Theatre, which is due to close soon, after which he will work on writing his own plays. King Lear will have its first preview at the Old Vic on October 25. Find out more at the Daily Mail!
Imelda Staunton (Dolores Umbridge) was honored at Buckingham Palace last Friday when she received a CBE for her Outstanding Services to Drama. Joined by her husband and famous Downton Abbey star, Jim Carter, Staunton beamed with pride while sporting a ruby gown and a classy black fascinator.
After the Duke of Cambridge presented Staunton with the award, Prince William told Staunton that Prince George and Princess Charlotte love to listen to her readings of the Julia Donaldson books on long car journeys. Staunton voiced all of the Julia Donaldson audiobooks, along with The Gruffalo and several others. After her 8-month stint in Gypsy on the West End, Imelda Staunton is planning a quiet life with her husband, at least for the next year. Let's all put our hands together for Imelda Staunton for being absolutely awesome!
I didn't think I would ever be saying anything like this, but Sir Michael Gambon (Albus Dumbledore) has narrated a short film celebrating dogs by Tails.com. Yes, you heard me: DOGS! The film is being released following research revealing that dog owners are on average eight per cent happier than non-dog owners. What do you think of this statistic? The film follows 20 different dogs while also capturing everyone's hearts.
Watch the short film below and try not to get chills purely from the power of Michael Gambon's voice. Just try.
Sir Kenneth Branagh (Professor Lockhart) and John Hurt (Ollivander) will be joined by Phil Dunster in their upcoming production of The Entertainer. The Entertainer runs from August 20 to November 12 and concludes the Plays At The Garrick season, which previously included The Winter's Tale, Harlequinade, Red Velvet, The Painkiller, and an upcoming production of Romeo And Juliet. Among the many reprised roles that The Garrick has seen thus far, we also saw Zoë Wanamaker (Madame Hooch) in the Harlequinade.
Do we have any fans of ABC's Rake? The show will return for its fourth (and possibly final) season in May, when we can expect to see a guest appearance from Miriam Margolyes (Professor Sprout). Rake follows a brilliant barrister (Richard Roxburgh) who defends the indefensible, while also having some self-destructive tendencies. The show will return to ABC on May 19. Mark your calendars!
How many of you grew up collecting the Trolls that made a generation? The new Dreamworks Trolls is hitting theaters October 21 in the UK and November 4 in the US, and the movie has an unexpectedly star-studded cast! Among the wide array of cast members is John Cleese, who played our very own Nearly-Headless Nick! Cleese will be voicing Bergen royalty King Gristle Sr.
King Gristle Sr. has dual responsibilities: leading the fickle, easily-distracted Bergens and raising his only son, Gristle Junior, whose primary mission in life is to get his first taste of a Troll.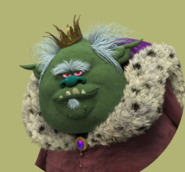 The animated film will also feature the likings of Anna Kendrick, Justin Timberlake, Zooey Deschanel, James Cordon, and many, many more! Mark your calendars! This movie looks colorful, fun, and a must-see animation!
If you haven't heard, the release date of Jungle Book: Origins was pushed back from October 6, 2017 to October 19, 2018 to not only give more than two years of separation from Disney's Jungle Book movie, but also to give directors more time to perfect the film. In light of this, director Andy Serkis has brought Alfonso Cuarón (Director of Harry Potter and the Prisoner of Azkaban) in to improve the film. Now, I might be biased, but I think this was a fantastic decision! I can't wait to see what he does with the film.
David Tennant (Barty Crouch Jr.)! Did I get your attention? The world premiere of Richard II is now available to stream worldwide! Tennant stars in the lead role, destining the show to be incredible.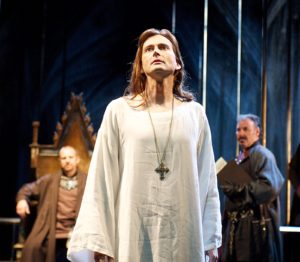 Richard II will be available to stream for the next six months on BBC, along with other content from BBC Shakespeare Day Live. The live stream launches a weekend of events celebrating the life and works of William Shakespeare. Go watch it now!
In celebration of Shakespeare's life, David Tennant and the Royal Shakespeare Company's artistic director Gregory Doran sat down to discuss why Shakespeare plays are still celebrated 400 years after his death. Watch the full interview below and weigh in on your favorite Shakespeare play! What would you like to see David Tennant in next?
That wraps up this week's Casting News! Not much has happened this week, but what has happened is big! What are you most excited for? I think I am ready to rush out and buy Lady in the Van. What about you?