Deluxe Edition of Jim Kay's Illustrated "Chamber of Secrets" Announced
The Jim Kay Harry Potter and the Chamber of Secrets illustrated edition will be released this coming October, following on from the stunning Harry Potter and the Philosopher's Stone/Sorcerer's Stone that was released last year. Just like with the first in the series, Bloomsbury UK has announced that there will be an exclusive deluxe edition.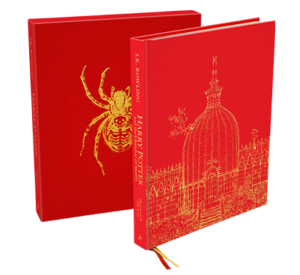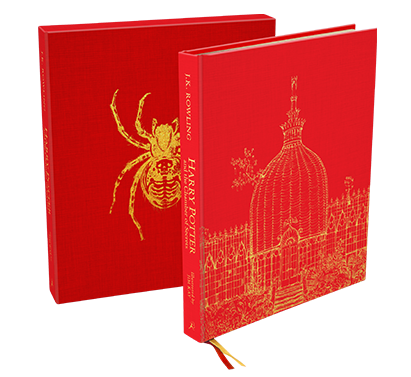 The deluxe edition of Chamber of Secrets will be red, with a spider on the slipcase. Here's some more about what the special edition will feature.
The much-loved second novel in the series brings wonderful, illustrated set-pieces, dark themes and unforgettable characters – including Dobby and Gilderoy Lockhart. This beautiful, deluxe edition of J.K. Rowling's timeless classic features an opulent page size and an exclusive pull-out double gatefold, intricate foiled line art by Jim Kay on the real cloth cover and slipcase, gilt edges on premium grade paper, head and tail bands and two ribbon markers – the ultimate must-have edition for any Potter fan, collector or bibliophile.
The Philosopher's Stone/Sorcerer's Stone pull-out featured Diagon Alley, and hopefully, nearer the release date, we'll learn what the special Chamber of Secrets image will depict. The deluxe version of Chamber of Secrets will be released on October 10, 2016, and will retail in the UK at £150.
You can pre-order the special edition now, as well as the standard edition here.
Did you get the special edition of Philosopher's Stone/Sorcerer's Stone? Will be you ordering the deluxe Chamber of Secrets? Let us know in the comments!