Hybrid Hogwarts Houses Are Hogwash
After J.K. Rowling's tweet, and all the evidence of Pottermore Hatstalls, it has become common to identify as a "Slytherpuff," or a "Huffledor," or maybe even a "Ravenitherhuffledor."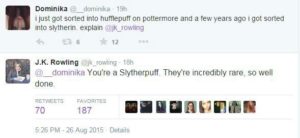 It. Is. Ridiculous.
J.K. Rowling is wonderful, and I understand she is accepting of everybody's interpretation of her books, but the whole point of being Sorted is to find out what potential House you would LIVE IN at Hogwarts. You can't live in Slytherin for first semester and Ravenclaw for second; the whole point is you have to CHOOSE.
I've seen analyses saying Hermione/Harry/Ron/etc. are a perfect hybrid of all four because they possess every House's qualities. That's not the point. As Dumbledore stated, "It is our choices that show what we truly are far more than our abilities." The constant debates surrounding how Peter Pettigrew could possibly have been a Gryffindor are more evidence of the fandom's general misunderstanding of what being Sorted stands for.
When you choose to be a "hybrid," you are backing out of making a decision about what you value most. Extrapolating from this, one of Harry Potter's fundamental themes is the importance of making hard decisions. Remember when Dumbledore stated, "Dark times lie ahead of us, and there will be a time when we must choose between what is easy and what is right." Remember the condemnation we felt as readers when Cornelius Fudge refused to believe Voldemort had returned because he was scared of making tough decisions.
I'm not saying that the Pottermore Sorting quiz isn't excellent fun – I've Sorted myself four times and gotten a different House each time. When I was a child, I thought I was a Gryffindor (like most of us, I imagine – the subtleties and nuances between the different Houses were difficult for an 8-year-old to grasp). After I was Sorted for the first time on Pottermore, my House was Slytherin. At first I was in shock, but I came to realize that being Sorted into Slytherin was the right choice for me because I do value resourcefulness, cleverness, and ambition more than the other House qualities. Having said that, people have called me Gryffindor, Ravenclaw, and Hufflepuff before, believing those traits were stronger. But being Sorted was about my choices, not my perceived abilities.
Blending Houses is a cop out and defeats the whole purpose of the House system in the first place.
What do you think of hybrid Houses? Have you been a hybrid and then decided on a single loyalty? Or have you been sure you were a Gryffindor/Ravenclaw/Hufflepuff/Slytherin and then decided you were a hybrid?