Newly Designed "Harry Potter" DVD, Blu-ray, and Steelbook Covers Are Coming
In case your Harry Potter collection isn't yet large enough, Warner Bros. is about to release new DVD and Blu-ray sets of the Harry Potter films with beautifully redesigned covers.
The artwork for the DVD collection is called "Moments," and it features the main cast as well as magical creatures from each film, partly in celebration of the upcoming Fantastic Beasts and Where to Find Them. The team that designed the covers explained,
You'll see that there's detail and storyline elements from each film. A fresh way to look at it is we've included a vignette from each film, which highlights a beast or a creature. It's intended for new fans, but these elements are really what pulled at the heartstrings of lots of old fans as well.
Meanwhile, the artwork for the Blu-ray collection is called "Iconic," featuring key objects from each of the films, such as the Sorting Hat, the Goblet of Fire, and the Elder Wand. The team said,
We love these pieces of art; they are different from anything we've ever done before. It's looking at it for the fans who know what these objects are. If you look closer, at the Sorting Hat, for example, you can see Harry's glasses. Or if you look at Half-Blood Prince, you have Tom Riddle's memory vial in the middle, as a little hidden gem.
We also have a look at the box set cover artwork for both the DVD and Blu-ray sets.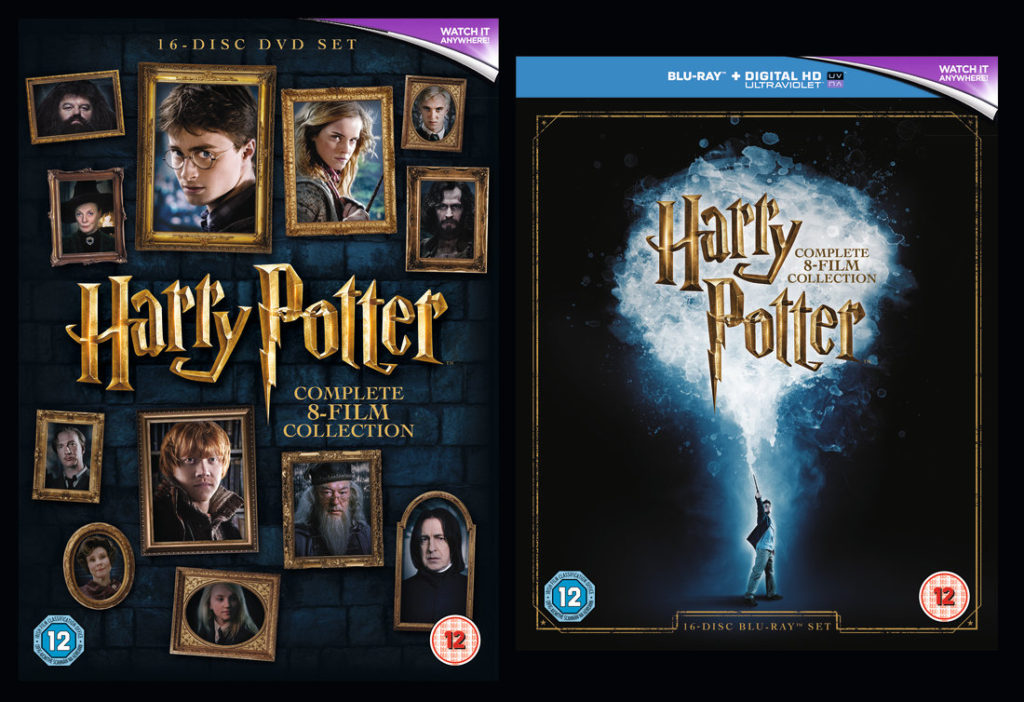 The "Moment" artwork is aimed at the new generation of Potter fans, while the "Iconic" artwork targets the original Harry Potter generation.
The new DVDs and Blu-rays will be available on July 25, 2016.
Additionally, in the UK, HMV will be releasing exclusive, limited edition Harry Potter Blu-ray Steelbooks, seen below.
Steelbooks for Movies 1–4 will be released August 8, 2016, and Steelbooks for Movies 5–8 will be released October 24, 2016.
Each two-disc Steelbook will be sold for £19.99, and they can all be pre-ordered here.
What do you think of the new artwork? Does "Moments" or "Iconic" appeal more to you? Will you be purchasing any of the new, DVDs, Blu-rays, or Steelbooks?