Matthew Lewis Surprises Young Air Cadets at Anniversary Celebration
For all of our Matthew Lewis fans, did you know he was once an Air Cadet? Although it's been a long time since he has been one, he recently gave young fans a treat when he showed up at the 75th anniversary celebration of the Air Cadets.
Lewis had been in Gloucestershire for the RAF Fairford Royal International Air Tattoo Show, the world's largest military air show. The Air Tattoo is staged annually to support the RAF Charitable Trust, which aims to help the RAF and encourage interest in the aviation industry in kids and young adults. The show itself usually attracts celebrities from all over the world in its enormous crowds. Lewis had a special interest in seeing the airshow, being an Air Cadet himself in his pre-teens while in between filming Harry Potter.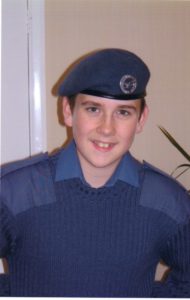 As a former Air Cadet with the 2168 (Yeadon) Squadron, Lewis was invited to the celebration to talk with the other cadets about their experience as an air cadet, the air show, and Harry Potter (obv… iously). Lewis was also invited to cut the ceremonial first cake slice, made specially for the 75th celebration. Take a look at pictures from the event below:
In an interview with the Irish Examiner, Lewis said,
This year being the Air Cadets 75th anniversary, it has been extra special for me having been an air cadet many years ago. Being asked to cut the celebratory cake in front of so many cadets and visitors has been a big deal for me, and I have been thrilled to be asked to do it.
Read more about Matt Lewis at the Air Cadet celebration here.
Lewis has recently starred in the JoJo Moyes film adaptation of Me Before You alongside other famous actors such as Hunger Games star Sam Claflin, Games of Thrones's Emilia Clarke, and Doctor Who star Jenna Coleman.
Do you have any fun facts about Matthew Lewis that aren't commonly known? Share with us in the comments below!