Nerding Out for "Potter" Since 1997
Here at MuggleNet, we have some dedicated Potter fans. In honor of Nerd Week, we thought we'd take a look back at our nerdiest moments throughout the years and how so many of us never imagined we would eventually be working for the ultimate Harry Potter fan site.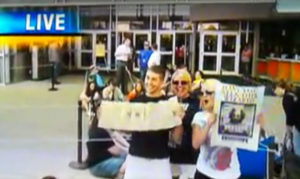 "This was at the midnight premiere of Deathly Hallows – Part 2. I got there at 3:00 (nine hours early) and sat in the 90-degree weather. But hey! I got a fantastic seat, and I was on the news! My friend and mom are with me. I'm the one screaming while holding up a Sirius Black poster." – Cheyenne
"Spring of 2014, at the Elephant House Cafe in Edinburgh, where JKR wrote parts of the first books. It was the most magical place I've been." – Alison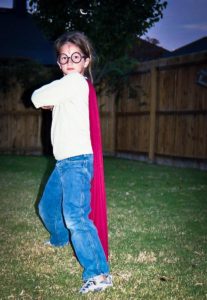 "One of my old Halloween costumes. I first dressed up as Harry Potter for Halloween when I was eight years old. People kept asking me if I was Harriet Potter, which I denied. I wore this costume three Halloweens in a row, from 2000 to 2002." – Madison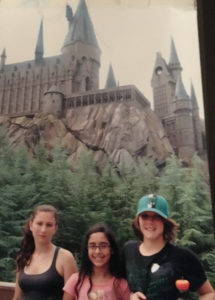 "This is me going to the Wizarding World of Harry Potter for the first time in 2010, so I would have been 13 I think (I thought I was a Slytherin, it's ridiculous, I'm a Gryffindor)." – Haley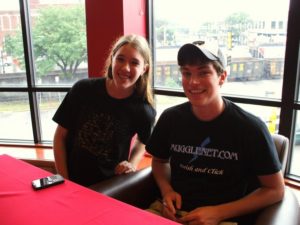 "June 28, 2007. It was at a Barnes and Noble in La Grange, Illinois. I was 15 years old, and I met Emerson when he did the tour for the What Will Happen in HP 7 book! Little did I know I'd be working for the website he created eight years later…" – Emily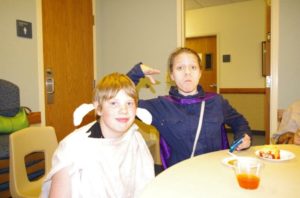 "This is me when I was eleven! It was Halloween, and I decided to wear my midnight premiere costume. I also wore this to Harry Potter and the Deathly Hallows – Part 2!" – Lyle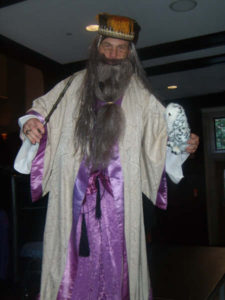 "My first Potter cosplay as Dumbledore while helping to run the Enlightening 2007 fan convention in Philadelphia." – Keith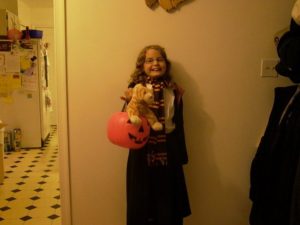 "When I was nine (2004) and dressed up on Halloween as Hermione." – Krista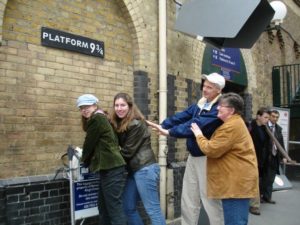 "This is me with my family at the original Platform 9 3/4 setup at King's Cross Station. We visited London for spring break in 2007, and I was 12." – Shannen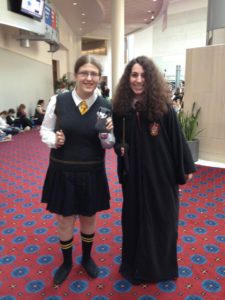 "LeakyCon Portland (2013) of me and Rebecca Karger (Content Team intern)." – Beth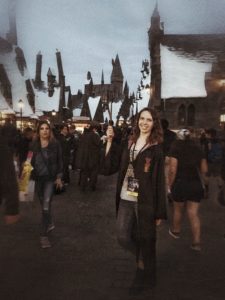 "April 7, 2016. Universal Studios, Hollywood. The ending of the most magical week I've ever experienced in my life. But this day in particular, I was on my own in the park for 14 hours (give or take), and I got to experience the park – fully functioning, in the daylight for the first time ever. It was my first time going to WWOHP, so the magic truly flowed through me until I couldn't stand any longer." – Liz
"This was taken in June 2010, during the opening week of WWOHP – Hogsmeade in Orlando, Florida. After waiting in an hour-long line just to get inside Hogsmeade, we celebrated by waiting in yet another line to get butterbeer. So this photo marks my first taste of official butterbeer…and oh man, was it life-changing. 😉" – Vix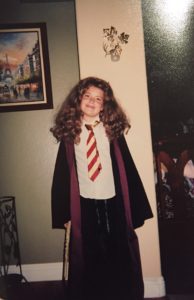 "In this photo I was about eight or nine years old dressed as Hermione Granger for Halloween!" – Savannah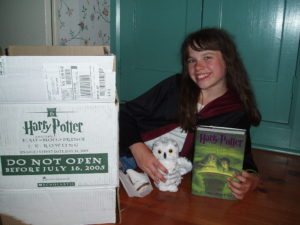 "This was July 2005 after the Half-Blood Prince release. I was 11 years old and beyond excited that I was allowed to go somewhere after nine o'clock…. I remember leaving Barnes and Noble (I was second in line for my book), and some guy waiting outside offered to pay me $50 for my book so he could go home and start reading. I clutched it tighter and ran to the car to start the marathon on the way home." – Amy H.
Do you have any Potter throwback pictures? Feel free to include them in the comments!