What Does It Mean? Warner Bros. Acquires "Cursed Child" Trademarks
Irish solicitor Brian Conroy noticed some trademark registrations today that are very interesting to Harry Potter fans – Warner Bros. has applied for a Harry Potter and the Cursed Child trademark, which would include a license for "motion picture films," among other things.
Check out what he uncovered: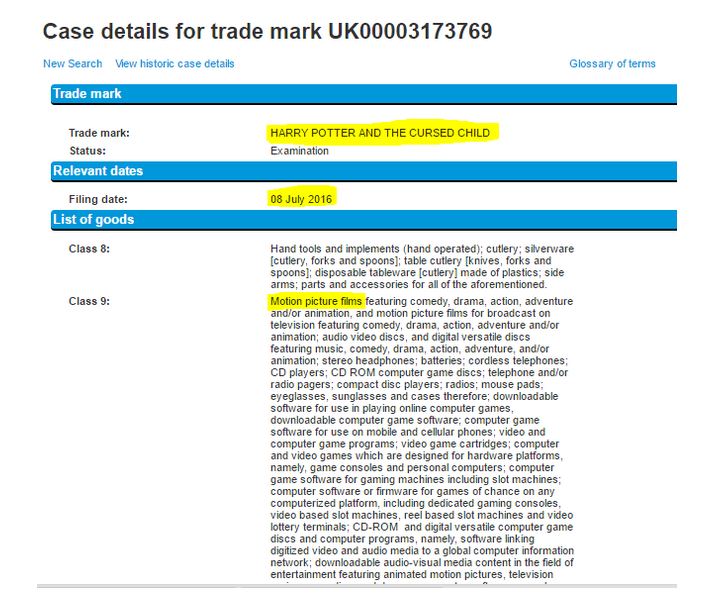 Conroy goes on to point out that J.K. Rowling herself already has a large number of Cursed Child trademarks for various products, covering a range of potential merchandise avenues – not surprising, considering the number of people who would attempt to infringe on the play's copyright if she didn't protect her intellectual property.
The question for fans is: What does this mean? Conroy seems convinced that, despite J.K. Rowling's earlier insistence that Cursed Child will not be a movie and is intended solely for the stage, Warner Bros. has its sights set on making a film version of the new story. While that could be true – the play has been earning rave reviews from fans, after all – we here at MuggleNet think it's unlikely.
Fans around the world have lamented the fact that producing Cursed Child as a play limits its viewing audience to those in the UK and those who can afford to travel there during the show's run. We're thrilled to get the chance to read the play later this month, of course, but it's not quite the same. Many hope that J.K. Rowling will orchestrate a high-quality recording of the show that fans around the world could see in movie theaters – perhaps this is the first stage in that process? We definitely hope so!
Read Conroy's analysis and see the trademark application in full here. What do you think Warner Brothers might have planned for Harry Potter and the Cursed Child?