Register NOW for the Fantastic Beasts 5K Charity Run!
We at MuggleNet have been under an Unbreakable Vow for a few months now with a little secret up our sleeve, but we are beyond excited to divulge that secret to you today. So without further ado, we'd like to officially reveal our partnership with our hardworking friends at the Hogwarts Running Club (HRC) to bring you our first virtual run, the Fantastic Beasts 5K!
For those of you who aren't familiar with the HRC, it is an outstanding organization that hosts virtual Harry Potter-themed races that earn participants some of the coolest, nerdiest-designed winner's medals around. And all of the proceeds benefit charities impacting a wide range of issues across the country and now, with the Fantastic Beasts 5K, the world!
And the best part is that anyone can participate! No matter your fitness level, the HRC is open to all. You can run or walk the races anywhere, anytime and can even split the distances up over multiple days in order to match your fitness needs. So there's no excuse not to join the fun!
Plus, the 5K medal we've got in store for you is one stellar piece of hardware we are just itching to show you. Stay tuned for the final reveal in the next few days! All you need to do to ensure a medal is sent to you is to register for the event, although we certainly encourage you to complete the 5K while you're at it!
The race itself, as its name suggests, is 5 kilometers in distance, and remember, you can run or walk that any way you like! Registration will cost $25, and proceeds will benefit END7, a charity supported by Fantastic Beasts actor Eddie Redmayne and Harry Potter alumnus Tom Felton! END7 is aimed at providing vaccines and cures to seven of the world's most common tropical diseases. With your help, this race could provide immeasurable medical aid to people and children around the world in need.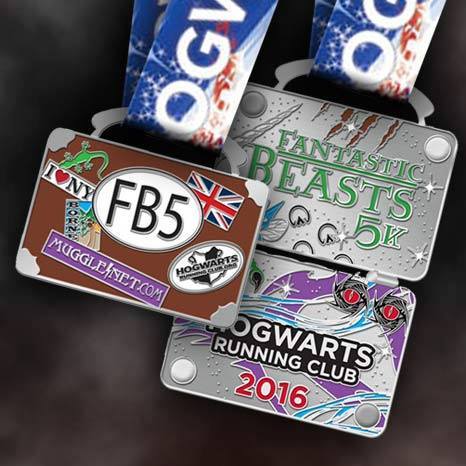 Registration is OPEN NOW and will remain open until August 15 at 3:00 a.m. EDT. Runners (and walkers) may complete their 5K at any time of their choosing, but we at MuggleNet, along with the HRC, give a suggested run date of July 31 in honor of Harry and J.K. Rowling's birthdays. We think they'd approve!
To register, simply head to the HRC Facebook page, hit the "Sign Up" button, and follow the prompts. In addition to registering, you'll also have the opportunity to purchase the Fantastic Beasts 5K T-shirt, which will feature Tom Felton's signature in the artwork!
We hope you'll consider joining us in our efforts to reduce tropical diseases and stay fit while celebrating the magic that is Harry's story. Register and join us on social media using the hashtag #SoMuchGood to share your progress!