Role Call: OBGY Emma Thompson Is N
Happy Independence Day for all of our readers in the US! This week's Casting News has us looking at upcoming films from some of our favorite Harry Potter alumni like Emma Thompson (as an OBGYN no less!), Domhnall Gleeson, and even Jim Broadbent! Read on to discover what everyone is up to!
Calling all Game of Thrones, Downton Abbey, and Harry Potter fans! Actors from each will star in a film together! Based on a true story, Zoo will tell the tale of a woman who rescued a baby elephant due to be shot from Belfast Zoo during WWII.
The film will star Harry Potter favorite Toby Jones (voice of Dobby), Penelope Wilton from Downton Abbey, and Art Parkinson, who plays Rickon Stark in Game of Thrones. It is sure to be a great film seeing these three audience favorites collide!
Unfortunately, after following medical advice, John Hurt (Ollivander) has been forced to pull out of a new production of The Entertainer. Hurt was slated to star as Billy Rice in the Kenneth Branagh Theatre Company production. In a recent statement, Hurt, who was diagnosed with pancreatic cancer last year, had this to say:
I have recently been in hospital with an intestinal complaint and although I am much improved and on the road to a full recovery, my doctors have advised that it is too soon for me to undertake a lengthy and arduous stage role.

It is therefore with great sadness and disappointment that I must withdraw from 'The Entertainer'.
We do not know who will replace Hurt in the role, but previews of The Entertainer will begin August 20.
I think we all knew that Helen McCrory (Narcissa Malfoy) was currently killing it in Deep Blue Sea at the National Theatre, but a columnist from the Daily Mail recently tweeted, as seen below, that the show will be broadcast live on September 1. Unfortunately, the broadcast will only apply to 650 UK venues, saddening the rest of us that we won't see Helen in all of her glory, but it should be a truly marvelous performance! If you plan on seeing it, let us know in the comments below!
#HELENMcCRORY'S acclaimed performance in @NationalTheatre #DeepBlueSea broadcast live to 650 UK venues @ntlive Sept1 pic.twitter.com/8bkJwO1Lpr

— Baz Bamigboye @Deadline (@BazBam) June 20, 2016
Fiona Shaw (Petunia Dursley) will star in Syfy's upcoming series Channel Zero: Candle Cove. The series will also star Paul Schneider, whom I recognize from one of the best all-time shows on television – Parks and Recreation – but I digress.
The series is based on Kris Straub's online short story and is set to debut this fall. The plot is as follows:
It centers on one man's obsessive recollection of a mysterious children's television program from the 1980s – and his ever-growing suspicions about the role it might have played in a series of nightmarish and deadly events from his childhood.
The show has been picked up for two six-episode seasons, with Season 2 set to premiere in 2017. Shaw stars as Marla Painter, Mike's (Schneider) mother and widow. Channel Zero: Candle Cove will premiere this fall on Syfy!
Fans of CBS's How to Get Away with Murder will be pleased to hear that Season 3 of the show will premiere on September 22! The ShondaLand show, which stars Alfred Enoch (Dean Thomas), took the world by storm in a dark and mysterious way.
The first trailer for Sky Atlantic's second season of Fortitude was released last week! The chilling series stars Sir Michael Gambon (Albus Dumbledore) as he and the rest of the cast reside in the isolated town of Fortitude, an apparent breeding ground for all sorts of psychological horror. Fortitude will premiere in the UK this January on Sky Atlantic and on Pivot in the US. Check out the trailer below! If you are unable to view the trailer, visit this link!
Bill Nighy (Rufus Scrimgeour) will be playing the Narrator in a rehearsed reading of Stuff Happens at the National Theatre. The production will only take place for one night, on July 6, marking the day that the Chilcot Inquiry report is published. Directing Nighy and the other original cast members is David Hare. The production is only a few days away. Is anyone planning on seeing this masterpiece?
Kelly MacDonald (Helena Ravenclaw) has joined the cast of Domhnall Gleeson's (Bill Weasley) Goodbye Christopher Robin. She will play Christopher Robin's nanny, Olive, while Gleeson will star as A.A. Milne, the creator of Winnie the Pooh. I wrote about this upcoming film in a recent Role Call if you would like to check the film out in more detail. Until then, I am super excited for this film!
Speaking of our favorite ginger, Domhnall Gleeson will star in an untitled film with Jennifer Lawrence, Javier Bardem, and Ed Harris. Because it is without a name, its working title is Day 6, which gives little to no information about what the film might be about. Luckily, even without a title, a plot and a production schedule has been released. According to IMDb, the film follows:
a couple whose relationship is tested when uninvited guests arrive at their home, disrupting their tranquil existence.
Day 6 will begin filming imminently, with production rumored to stretch into August. What an amazing cast!
Julie Walters's (Molly Weasley) upcoming film Film Stars Don't Die in Liverpool has added a new cast member in Vanessa Redgrave. Shooting has begun for the film in Liverpool and will also take place in London and Pinewood Studios. Interestingly enough, they are currently shooting in the same place as Fantastic Beasts and Where to Find Them.
Imelda Staunton (Dolores Umbridge) was featured in a concert in Devon marking 100 years since the Battle of the Somme on July 1. Accompanied by Jim Carter, Staunton joined the folk duo Show of Hands for the event in Exeter Cathedral. Regarding her involvement in the concert, Imelda had this to say:
We were delighted to be asked to work on the centenary project. The music is beautiful and the poems work so well. It is very moving and we feel very proud to be a part of it.
Embed from Getty Images
The concert featured songs and poetry from Show of Hands's album Centenary – Words and Music of the Great War, which also featured Imelda Staunton and Jim Carter.
Jason Isaacs (Lucius Malfoy) has joined the ensemble cast of The Death of Stalin, a film based on true events set during the days following Stalin's collapse. Ultimately, the film is based on the graphic novel by Fabien Nury and Thierry Robin of the same name. The Death of Stalin is set to be released next year.
The first trailer and movie poster for Timothy Spall's (Peter Pettigrew) newest film, Denial, were released last week. Based on Deborah E. Lipstadt's History on Trial: My Day in Court with a Holocaust Denier, the plot follows a legal battle that gives us a look at the Holocaust like we have never seen before. Spall stars as the Holocaust denier himself, putting him in the villain role yet again.
For more information on the plot of this highly anticipated movie, watch the trailer below and don't miss its debut in theaters on September 30 in the US and on February 3, 2017, in the UK. This movie looks intense and just plain informative. I can't wait to see it.
Timothy Spall also did an interview recently with the Guardian in which he admitted his insecurities, his defeat, and the inner workings of his mind. It is a lovely article where his parting words are:
I don't like doing anything unless I can do it well. That's why I don't do very much. Apart from act.
Spall, of course, is an inspiration to us all. Television, film, and theater would be lacking a beacon of talent if it not for Timothy Spall. Read the whole interview here.
Helena Bonham Carter (Bellatrix Lestrange) recently did an interview with Market Wired in which she explained her love of playing eccentrically dressed characters. Like Johnny Depp, who has acted with Bonham Carter in seven films, Bonham Carter prefers not looking like herself when she plays a character, and it even serves as a form of therapy.
Oh yes, it's completely therapeutic. I am not naturally very angry. But is quite tiring to be continuously angry, so it took a lot of sugar and caffeine. It's amazing that you don't have to pay for the therapy, but you get paid.
Helena not only finds inspiration with her costumes on screen, but she also loves experimenting with her own wardrobe. She has even kept some of the costumes that she has worn in different films over the years.
I should have kept more, because sometimes you do get attached. But you know what I tend to keep? My character's underwear. So I have the bloomers and the camisoles. You want to keep something, but it has more to do with letting go of the character.
Check out the full interview with Helena Bonham Carter here, where she gives us a glimpse into her crazy, wacky, amazing mind.
Jim Broadbent (Horace Slughorn) will star in an upcoming 3D Asterix franchise film, Asterix: The Mansions of the Gods. The franchise is hugely popular in the UK and will open in cinemas this August.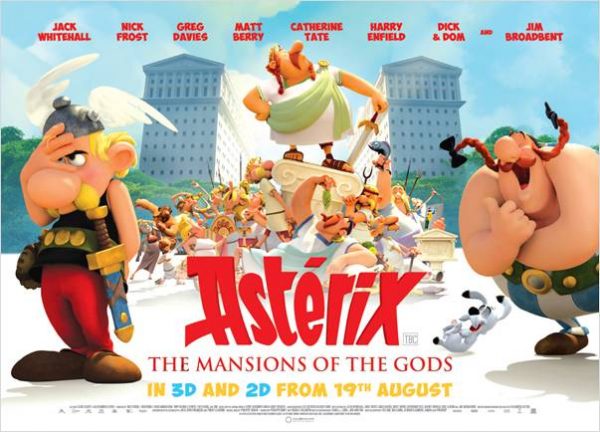 The year is 50 BC. Gual is entirely occupied by the Romans. Well, not entirely…

One small village of indomitable Gauls still holds out against the invaders. Julius Caesar (Jim Broadbent), exasperated by the situation, decides to change tactics. Since his armies are unable to prevail through force, Roman civilisation itself will charm the barbaric Gauls. And so he has a luxurious housing complex built near the village for Roman families, called 'The Mansions of the Gods'.

Will our Gaulish friends resist the lure of easy money and Roman comforts? Will their village become a simple tourist attraction? Asterix and Obelix are going to do all they can to thwart Caesar's plans.
Asterix: Mansion of the Gods will open on August 19.
The second trailer for Bridget Jones's Baby was released last week, and we can see Emma Thompson (Sybill Trelawney) absolutely steal the show as Bridget's doctor. Also in the film is of course Colin Firth as Mark Darcy, but also, to my surprise, McDreamy himself, Patrick Dempsey! As seen in the trailer below, Bridget Jones has gotten herself into quite the predicament when she gets pregnant and doesn't know which attractive male is the father. Bridget Jones's Baby is out on September 16. How excited are you?
Warwick Davis (Griphook, Professor Flitwick) will be making an appearance at Star Wars Celebration Europe in London this month, from July 15 to 17. Alongside many other Star Wars actors, Davis will have a guest appearance at three different panels throughout the celebration. See the partial schedule for the weekend's events here, and let us know if you plan to attend this fantastic event!
That's a wrap on this week's Role Call! Which films are you most looking forward to? Let us know in the comments below!