"Cursed Child"'s Sam Clemmett on Albus Potter
Harry Potter and the Cursed Child previews are well under way now, and with the show officially due to open at the end of this month, it appears that the first wave of previews have been well received by fans. We've already heard from the trio – Jamie Parker, Noma Dumezweni, and Paul Thornley – as well as the creative team, but now we've got a chance to hear from one of the next generation cast members.
Sam Clemmett, who plays Albus Potter, as revealed by Pottermore a few weeks ago, spoke to the Evening Standard about the weight of the role and fan expectations. Until now, we've haven't known much about the young actor cast in the role of Albus Potter, Harry's second son, who can be seen in costume in the portrait below.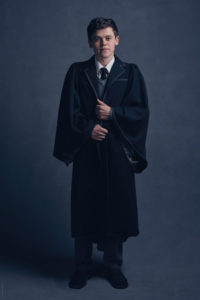 On becoming part of the cast, Clemmett says,
When I was first announced as Albus social media went mental. You are taking into your hands this world that so many people have fallen in love with, and there is a sense of responsibility, of wanting to do that justice.
Although Clemmett can't say much about the role, he does touch a little bit on Albus's character and where the play begins, as revealed in the synopsis last year.
We first meet Albus at the end of [the seventh story] Deathly Hallows when he is a young man going off to Hogwarts. He is nervous about being potentially sorted into Slytherin [H]ouse and having to deal with the legacy of his father's past, which is a massive burden for him. He is a very introverted, shy lad, a bit of a misunderstood character. Then when he goes to Hogwarts he is propelled into this massive journey.
He also touches on the relationship between Albus and Harry while avoiding any spoilers.
There are issues. It's like having a massive celebrity figure as a dad. People react to you in different ways whether you want that attention or not. Whether you are able to live up to that person or not, it affects your self-esteem.
Returning to the play more broadly, Clemmett discusses what he thinks is at the heart of the play.
It's a father-son relationship, it's about family, it's about love, and Jack Thorne deals with those universal truths so brilliantly.
Clemmett also admits that he is a Potter fan himself. He
grew up with the story, and I read the books as they came out, before I saw the films. I loved them, but I wasn't a massive Potterhead. My Potter knowledge is good, and I have done the research. But people will be able to catch me out, I'm sure.
Finally, Clemmett touches on the amazing reaction the first preview received from the audience. He says it was
like a rock concert. Their knowledge was extraordinary. There was a laugh every beat, they picked up on everything and the reaction we got was extraordinary.
You can read the full interview here.
Did you enjoy hearing from one of the younger cast members of Cursed Child? Have you seen the play yet? Or are you looking forward to seeing Clemmett's portrayal of Albus? Let us know in the comments, but remember to #KeepTheSecrets!