A Very Cursed Child
This post will contain spoilers from Harry Potter and the Cursed Child. If you would like to remain spoiler-free, I recommend you do not continue past this point.
———————————-
It has been a week since the release of Harry Potter and the Cursed Child, and for fans of StarKid Productions, Cursed Child may have felt a little too familiar. In 2009, StarKid debuted its original parody musical, A Very Potter Musical, which was later followed by A Very Potter Sequel and A Very Potter Senior Year, in 2010 and 2012, respectively.
Many have been commenting on the fact that Cursed Child seems to follow a popular storyline from A Very Potter Sequel (also known as AVPS, for short): time travel. Indeed, the opening scene of AVPS shows Lucius Malfoy displaying his stolen Time-Turner from the Ministry, explaining that going back in time is the only way to progress the story; "He [Harry] marries Ginny. They live happily ever after. There is literally no way to move forward from this point."
Sound familiar?
I intend to go through and break down, with the help of MuggleNet intern Haley, as much of the Cursed Child (referred to as "CC" for short) and A Very Potter Musical, Sequel, and Senior Year ("AVPM," "AVPS," and "AVPS" for short) overlap as possible.
As one MuggleNet staffer, Emily, wrote in her review, "Starkid wouldn't have to change a word of this play to make it a parody."
Let's dive in, shall we?
1. Time Travel
Both plots circle around time travel, since mentioned earlier in the article. While Jack Thorne and his team could have decided to further the story with tales of the trio's children and their own adventures, Thorne went with returning to past events. Both stories follow this mantra of "Keep Voldemort Alive."
The AVPS plot focuses on sending the Death Eaters back in time to kill Harry before he can face off against Voldemort. In CC, we have Delphi Diggory (erm, Lestrange? Riddle?) going back in time to prevent Voldemort from killing baby Harry, hoping that this will break the original prophecy.
Also, the Malfoy men have Time-Turners in both stories. In AVPS, Lucius Malfoy steals a Time-Turner from the Ministry. In CC, Draco Malfoy has had a Time-Turner all along. Turns out it was his father's original property, which isn't surprising since Lucius had a record of collecting unusual items.
2. Ron's Comedic Character
In all of the StarKid shows, Ron's entrance is usually accompanied by the Seinfeld theme music, which sets the stage for a comedic character. Let's remember this is a parody, so it's okay! However, in CC, Thorne could have done a lot more with Ron's character. Ron is used for laughs, distractions, and not much else minus the brief moments of romance seen in waves of time travel.
Don't think their characters are similar enough? Here are two lines from each production:
"Did somebody say Ron?!" – Ron Weasley, A Very Potter Sequel (2010)
"Did I hear my name?" – Ron Weasley, Harry Potter and the Cursed Child (2016)
3. The Triwizard Tournament and Cedric Diggory
There's a whole lot of Cedric Diggory in both shows. AVPM centers on the Triwizard Tournament, but instead of featuring Durmstrang and Beauxbatons, the champions are from each House. They call it the House Cup Tournament. The same tasks occur, yet we see a meaner Cedric since he even punches Harry at the Yule Ball.
Some may find it comparable to how Thorne pens Cedric as a Death Eater in one of the alternate time scenarios, tapping into a darker side we never see in the original series.
As we know, the Triwizard Tournament is used in CC to prevent Cedric's death, and we revisit all three tasks during the script. It's an interesting coincidence that of all the plot lines, Triwizard Tournament is used in both performances.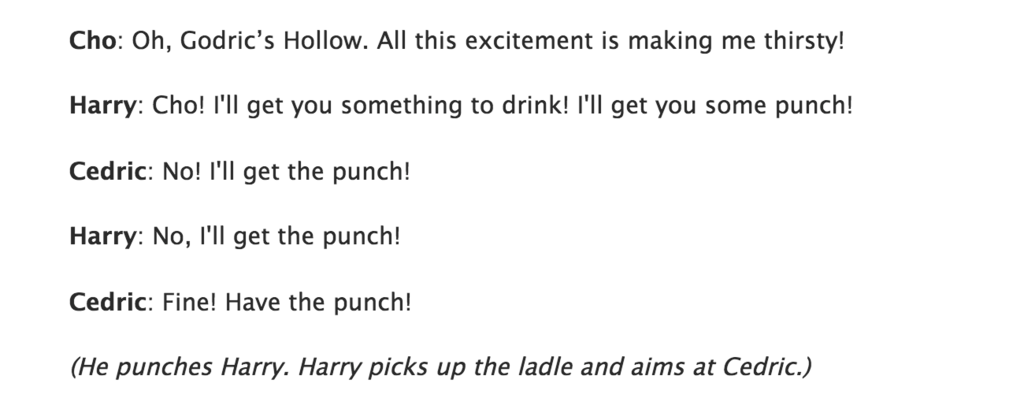 4. Bellatrix and Voldemort
In AVPM, Bellatrix and Voldemort have an open sexual relationship, and it is no secret. In CC, it is revealed toward the end that Bellatrix and Voldemort have a child, Delphi, who was born prior to the final battle in Deathly Hallows. To continue this theme of Voldemort having a child, we see Quirrell and Voldemort with a young girl at the very end of AVPSY. It doesn't make a lot of sense, but neither does Delphi.
5. The Trolley Witch
This is always going to be weird but perhaps one of the most direct comparisons between CC and the StarKid musicals. In AVPS, we get a Death Eater impersonating the Trolley Witch. In CC, we get… well, we know what we got. I'm personally still having nightmares and won't look at Pumpkin Pasties the same.
6. The Malfoys
Draco may be one of the favorites from the StarKid Potter musicals, and for a good reason. Comparably, Draco may be one of the best parts of CC, demonstrating his growth since Deathly Hallows, but he continues to have stereotypical Malfoy attributes.
Additionally, in the StarKid musicals, Draco has a crush on Hermione. Ironically, in CC, Scorpius fancies Rose, Hermione's daughter. Like father, like son.
7. Headmistress Umbridge
We see Headmistress Umbridge in AVPS, and surprisingly, her character in CC is even worse.
This is how I envision Headmistress Umbridge in CC.
For the record, I am in no way saying Jack Thorne is plagiarizing a popular Potter parody musical trilogy, but the similarities are quite funny! Notice any other comparisons between the two? I'd love to hear them.