Geeky Crafting Feature: LetterThings
If you could have one magical object from the wizarding universe in real life, which would you choose? A wand? An invisibility cloak? Excellent choices, to be sure, but if you're looking for a more practical application of magic, you can't get much better than Molly Weasley's incredible clock. In case you've forgotten (I'm sure you haven't), this clock was bewitched to alert the user to her family's whereabouts instead of the time.
If you've ever wished you could have this amazing device in your own life, look no further than Trish Mercer's "LetterThings" Etsy shop. While her clocks may not let you know whether your family is in "mortal peril," they will let you know when it's time to "De-gnome Garden" or "Service Broom." And if you happen to be a citizen of more than one fandom (who isn't?), you'll be happy to know that she also offers clocks themed to everything from Disney (Time to "Save China") to Sherlock (Time to "Regard Lestrade with Withering Contempt"). There are even some awesome Harry Potter-inspired key holders and coat racks! MuggleNet had the pleasure of talking to Trish herself about her delightfully geeky products.
MN: How did you get started with your designs?
TM: I got started about two years ago when we were underemployed, and we didn't have any money for Christmas presents for our nine children. I made our [house-elf] sign and listed it on Etsy, hoping to earn a couple hundred dollars to spend on our kids. It took off quite well, and we not only could provide Christmas for ourselves, but also do Secret Santa for someone else.
Shortly after that, my oldest daughter in college said, "Remember that Mrs. Weasley clock you tried to make about eight years ago?" Oh, I did. It was solid wood, and I practiced calligraphy so I could write on parchment different things to do each hour. It was beautiful, but very heavy and impractical. And it didn't work. (I tried making spoon hands–way too heavy.) It also cost me somewhere around $40 to make! My daughter said, "Try it again, but find a cheaper way to do it. I want one for my apartment." So, after much, MUCH trial and error, I came up with a prototype using a […] clock [that] I'd [dismantled] and [remade], and gave it to her.
"Perfect," she declared. "Now start making these and selling them on Etsy." Yeah, [she] set me up, and I'm glad she did. That clock has been our most popular item.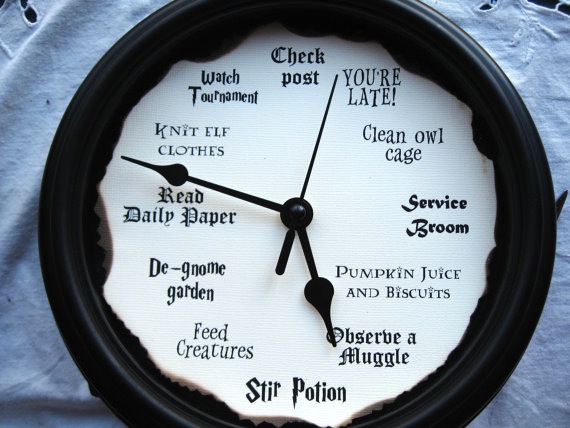 MN: Were your clocks inspired by Mrs. Weasley's similar clock featured in the Harry Potter series, or did the idea come independently?
TM: I definitely wanted a Mrs. Weasley clock to be able to track the whereabouts of my children! But it was impossible to do (dang Muggle genes). That's why I decided to make a regular clock that was reminiscent of Molly Weasley, the character I most identify with.
MN: Do you have any advice for people wishing to make their own geeky fandom-inspired crafts?
TM: Make something that speaks to your heart. That's what I did with the clock years ago, trying to capture some of the magic of the books to tack onto my wall. Don't worry about what other people may think, but decide what you'd love to have in real life, then start experimenting. I had about a dozen failures over three weeks' time before I finally got a good clock made that I not only felt proud of, but felt others would like, too. My signs took just as long, with just as many failures. Don't worry about messing up in what you try to make; you will fail, but let that excite you for the next round of experimenting. Eventually, you'll get it, and  you'll come up with a clever and unique item you can display proudly.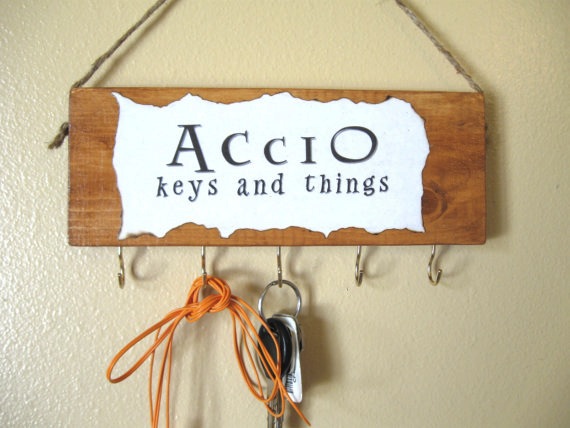 I don't know about you guys, but I think a clock like this is just what I need to make my daily activities a little more exciting and fantastical. All of Trish's products (including a "Free a House Elf: Donate Single Socks Here" unmatched sock sign that I definitely need) can be found on her Etsy page, LetterThings! Or if you're feeling crafty enough to try your own hand at it, check out our own post on how to make a "Free Dobby!" sock sign!
Which fandom clock would you most like to have? Let me know in the comments!