MinaLima Heading to Paris with Graphic Art Exhibition!
Great news for all European fans of the magical design duo known as MinaLima (a.k.a. Miraphora Mina and Eduardo Lima). Today, MinaLima announced that they would be heading to Paris in November with a new exhibition. MinaLima is responsible for the designs of so many iconic images in the Harry Potter films, and they've also been working their magic on the Fantastic Beasts and Where to Find Them films.
The exhibition, which begins on November 4, 2016, will showcase some of the graphic art from the Harry Potter films and Fantastic Beasts and Where to Find Them. The exhibition will be held at Galerie Arludik, 12-14 Rue Saint Louis, L'ile, Paris. The gallery focuses on showcasing the artwork behind films, comics, and more, so it's the perfect home for MinaLima!
You can see the full poster for the exhibition below.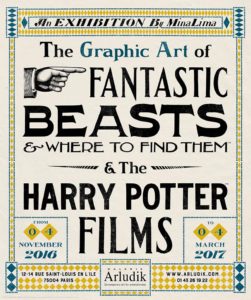 For fans in London, and those heading to Harry Potter and the Cursed Child, the House of MinaLima remains open in London until February 4, 2017. You can read MuggleNet's review here.
The Paris MinaLima exhibition will run from November 4, 2016, until March 4, 2017. You can find out more about the exhibition here.
Are you planning on heading to Paris to see the exhibition? Let us know in the comments!