Vegan "Harry Potter" Halloween Treats
Making new vegan recipes is always an adventure. You can never be quite sure how the ingredients are going to interact with each other. I suppose you could follow a recipe, but where's the fun in that? Don't let anyone tell you that you need a recipe to create delicious desserts, vegan or not.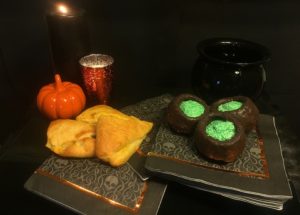 To start off my vegan baking escapade, I turned on the Prisoner of Azkaban soundtrack (the most Halloween-y of all the Potter films) and set out the ingredients for the cupcake portion of my Cauldron Cakes: some vegan cake mix from Target, vegetable oil, vegan egg, water, vanilla extract, and sugar. The cake mix didn't call for any extra sugar or vanilla, but it's always a good idea to add more sugar.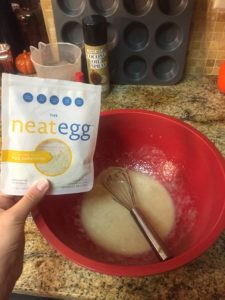 I used the neategg as my egg replacement. I combined it with all of the other ingredients and mixed. In hindsight, I should have used a flax egg or applesauce instead; this egg is really great for fried seitan batter, but it made the cake a little cake-ier than I wanted. If you replicate this recipe, be careful. Your whisks may be at risk.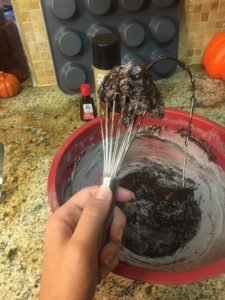 The best thing about cooking without real eggs is tasting the batter without fear of salmonella poisoning. Hurray! I gave it a test and decided to add more sugar, vanilla, and a splash of almond milk. Then I popped those puppies in the oven for 20 minutes and took them out to cool.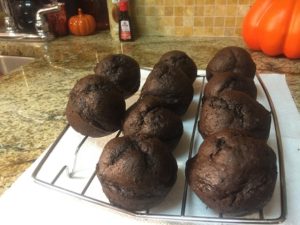 Now, for my favorite part: the chocolate sauce. I used Earth Balance butter, semi-sweet baking chocolate, and lots of powdered sugar.  While the sauce was melting, I took a spoon to my room-temperature cupcakes and scooped out their insides. Now they're looking like cauldrons!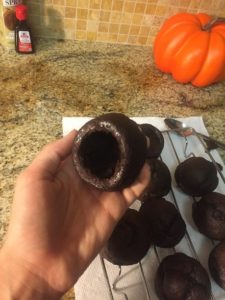 When the sauce was completely melted and all of my cupcakes had been thoroughly disemboweled, I dipped the cupcakes into the chocolate sauce one by one. There's no way to adequately describe the satisfying plop sound the cupcakes made as they fell into the chocolate sauce.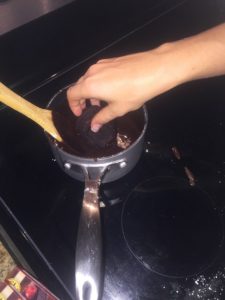 I put all of them in the fridge to harden the sauce and started mixing the filling: vegan cream cheese, more Earth Balance butter, powdered sugar, and green food coloring. Since I'm not fancy enough to have a piping bag, I put my filling into a Ziploc baggie with one of the corners cut off. I piped the green potion into the cauldrons, and my husband and I sampled one. Suffice it to say, they were incredible.
Totally exhausted from all of the baking, I restarted the Prisoner of Azkaban soundtrack and fired up the oven to make the Pumpkin Pasties. For this recipe, I used pumpkin paste, coconut milk, brown sugar, powdered sugar, cinnamon, nutmeg, vanilla extract, and my favorite accidentally vegan product, Pillsbury Crescent Rolls. First, I combined all the ingredients for the filling in a large bowl.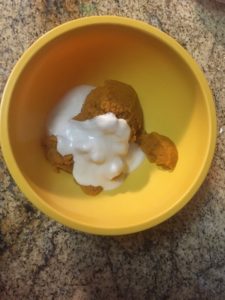 Isn't it beautiful? It was so beautiful that I just kept adding more pumpkin and coconut milk into the bowl. Somehow, I ended up with enough leftover filling to make three pumpkin pies. At least it's pumpkin season! After I mixed the filling, I laid out some parchment paper on a baking pan and prepared the dough.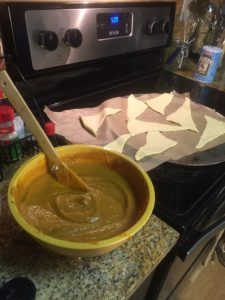 I spread my filling out over the dough, trying a few different designs since I wasn't sure what would work best. There were some issues with the second roll of dough, so I had to get creative with some of the pasty shapes.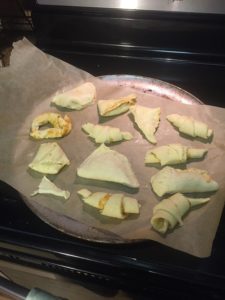 I baked them for about 12 minutes. The aroma was intoxicating: fresh, buttery bread with the slightest undertone of pumpkin, cinnamon, and vanilla. I pulled the golden brown delicacies out of the oven to cool off, but it was impossible to let them cool completely before I tried one. The burn on the roof of my mouth was totally worth it.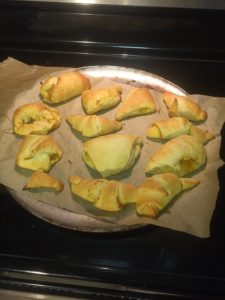 I'm no Molly Weasley when it comes to baking, but I was still really proud of my results! Do you have any Harry Potter-themed desserts you're proud of? What are your favorite vegan holiday recipes?