Warner Bros. Combines "Harry Potter" LEGO Games and Introduces New Downloadable Content!
For the first time, PlayStation's Lego Harry Potter: Years 1-4 and Lego Harry Potter: Years 5-7 will be combined on one disc!
Announced today, Warner Bros. Interactive Entertainment and TT Games will release the remastered games on a combined disc for the PlayStation 4 console, with all new downloadable content (DLC) packs. The game is expected to be released to the public on October 18 with a retail price of $49.99.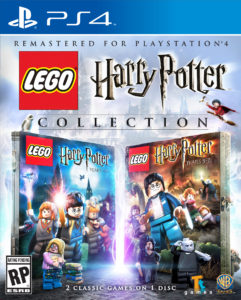 Included in the DLC are two packs: first, a character pack with 10 new characters featuring all four Hogwarts House creators, Harry and Hermione (from the Yule Ball), Luna with her lion head hat, Ron as the ghoul in his attic, Lockhart in a straitjacket, and Peeves. In the second pack are new spells, including Cantis, Densaugeo, Ducklifors, Melifors, and Tentaclifors.
You can read the Warner Bros. press release in full below.
Are you excited about the combination of the two games to one disc? Which character are you most eager to get a glimpse of? Let us know in the comments!