The Ghosts of Hogwarts: Ravenclaw Ghost
The young man strolled along the long stretch of lost and forgotten items, his footsteps echoing within the confines of this seemingly endless room. He walked with purpose, yet curiosity led his hand to idly touch things as he passed them by. The coarseness of a pelt, the decay of an old leather-bound book, the cold metal bars of a cage.
Cold. 
He smirked, stopping swiftly in his tracks but not turning to meet the new arrival. "Ah, I see you've come to try to take back what you stole."
The Gray Lady hovered, her wispy spirit translucent and unintimidating. "You were deceitful, Mr. Riddle. I told you that story in confidence."
He whirled around to see her, but mostly so she could see the object he grasped so firmly. He wanted her reaction, to feed off of her emotions as a Dementor would. Her eyes did indeed widen, and that once-charming smirk of his did not extend to his eyes, his heart.
"It was where I left it, after all these years?" Her voice, like her form, was a whisper.
Mr. Riddle held it higher as if to show it off in the sparse light. His eyes sparked with something that could be mistaken for joy, had the Gray Lady not known his true colors. She recognized that look; she saw it when she regaled the tale to him not long ago. It was a look of malicious pride.
"Of all the Ravenclaws to pass through these halls, it took a Slytherin to finally seek your precious heirloom. Cunning truly is more powerful than silly little puzzles. Your House prides itself on being enigmatic, yet you confided in me with your deepest secret. How does that feel, Helena?"
She did not look directly at him since the shame would've stung her face had she still been alive. "Why bring it here? What do you intend to do with it?"
Mr. Riddle's eyes narrowed now, looking right through the Gray Lady. He turned once again to walk to his initial destination, but she glided right alongside him.
"Tell me," she started as a whisper, then repeated more loudly until the room nearly collapsed into itself. "Tell me!"
Instinctively, he pulled out his wand, pointing it at her chest, which hovered about an inch above his own. He paused, nearly laughing to himself, before stowing away the useless wand. "What a joy it would have been to kill you, Helena."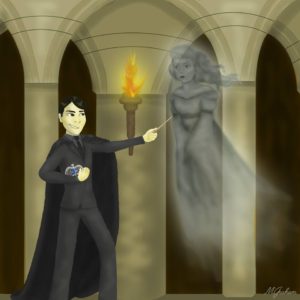 She placed her form directly to his face, eye to eye. Her stubbornness did not die with her. "Tom Marvolo Riddle, who calls himself a Lord," she spat. "I hear things around the castle. I don't talk anymore, but oh, I do listen. Heir of Slytherin? I am the Heir of Ravenclaw. To be so dissatisfied with puzzles and riddles, you pride yourself on being unknown, an enigmatic wizard of no actual pedigree. Oh, yes, you think I don't know that you are half-blood–"
"Enough!" Tom yelled, nearly dropping the object out of anger. "You think you can scare me? I could put my hand right through you and feel nothing but a temporary chill. You worry about what I will do with this glorified crown? You should be more concerned with what I have already done with your mother's precious diadem."
Helena passed through him, the action unexpected enough to cause Tom to indeed drop the diadem. The metal clinked to the ground, resounding through the endless room of hidden things. Tom, bent over with the chill that pierced his fractured soul, looked up at the ghostly figure. "You still cannot scare me," he growled, eyes ablaze with fury.
"No, but it is death you fear. I will still be here, haunting your beloved castle halls, while you go into the world seeking vengeance and destruction. I may not speak now, but there will come a time when my words lead to your finality, and I revel in keeping that promise."
Many decades later, the Gray Lady was approached by a bespectacled young man, scrawny and messy-haired. The Chosen One, they called him, or so she heard. Helena was ready to fulfill her end of the bargain in the downfall of Lord Voldemort.