Guillermo del Toro and His Fantastic Beasts
New York Comic Con saw the launch of a new Guillermo del Toro creation, and MuggleNet was there to experience all the creatures and magic. Before filing into the packed Madison Square Garden theater, we had the opportunity to discuss this next del Toro venture with the man himself, as well as the actors and producers who brought the creation to life.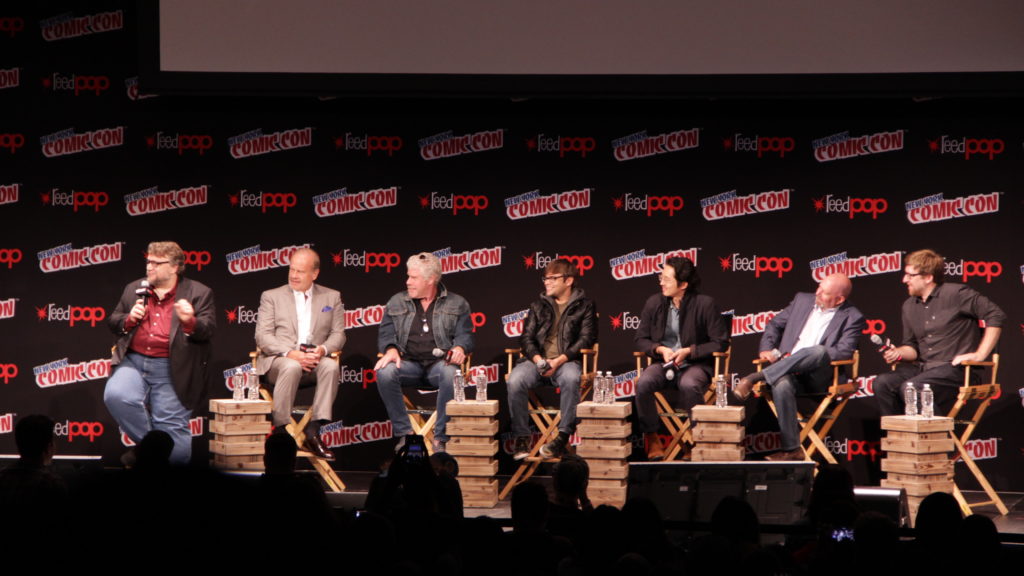 Trollhunters: Tales of Arcadia is an animated series that will be launched by Netflix on December 23. Voice actors include Ron Perlman, Kelsey Grammer, Steven Yeun, and Charlie Saxton, while the main character is voiced by the late Anton Yelchin, whom the cast and crew all paid tribute to during the panel and in the end credits of the screening.
As is the case with many of del Toro's works, Trollhunters focuses on mystical creatures and a fantastical world while maintaining a very human story. The trolls in this universe can be good or bad, and it becomes outcast teenager Jim Lake's job to protect the good while defeating the evil.
Ron Perlman, soon to be seen in Fantastic Beasts and Where to Find Them, voices the monstrous troll Bular, whom Perlman jokes is "pissed off at everything." Since this was not Perlman's first time acting behind a digitally created character, we asked him if playing a character that's CGI vs. one performed with prosthetics changed his acting approach.
"For me, it's always the same set of problems with completely different wardrobes," says Perlman. "Each character is its own riddle, and for me, my job is to solve the riddle of the 'who.'" Perlman says his job as an actor is the same no matter the circumstances. "I need to figure out who he is, how he sounds, what his values are, and what pisses him off." This approach doesn't change, whether he's in a physical wardrobe on set or has "a thing on [his] head with 55 cameras like [in] Fantastic Beasts."
As for del Toro, our burning question was whether or not he could see himself helming something like Fantastic Beasts since his good friend and collaborator Alfonso Cuarón previously directed a film in the Potterverse. When asked what kind of creature he would include in the new franchise if given the chance, he responded without hesitation, "A dragon. I'm dying to create a dragon."
What we wouldn't give to see a fantastic beast designed by this legendary filmmaker.
Heartwarming and hilarious, the first two episodes of Trollhunters are very promising and magical enough to fit nicely into del Toro's epic body of work. So if you like stories about unlikely heroes becoming the Chosen One – which we know you Potter fans do – don't miss Trollhunters this December on Netflix.
Want more posts like this one? MuggleNet is 99% volunteer-run, and we need your help. With your monthly pledge of $1, you can interact with creators, suggest ideas for future posts, and enter exclusive swag giveaways!
Support us on Patreon