Hagrid's Fantastic Beast of the Month: Niffler
'Ello, 'ello! Welcome ter Hagrid's Kritter Korner!! 'Tis the end o' the month, which means 'tis time ter teach yeh 'bout another fascinatin' creature. Listenin' back ter me favorite podcast, SpeakBeasty, I came across an episode where they were talkin' 'bout one o' me favorite creatures, a Niffler!!!
This is actually one o the creatures that I talk 'bout in me lessons!! The Ministry o' Magic gives it a triple X classification. This means that any competent wizard should be able ter cope. They are fuzzy black creatures sportin' long snouts. Their front feet are sorta flat, which helps 'em dig. Nifflers live 'bout 20 feet below ground and have litters o' six ter eight babies. The Niffler is a British critter, and its name is based on Northern English slang. "Niffler" means "a mutual exchange or barter," (which is kinda funny if yer 'ta think 'bout it). Nifflers love shiny objects, so they are born treasure hunters. Sneaky lil' things. 'Cause o' their burrowin' abilities, these critters are often employed by goblins ter burrow inter the earth searching fer treasure.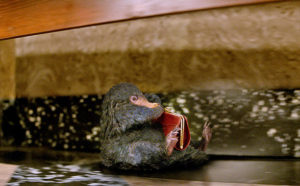 As cute, gentle, and affectionate these critters can be, they (unfortunately) shouldn' be pets. They tend ter be a lil' destructive ter personal property. Maybe I can find a way to magic the ground 'round me cabin so they can't burrow too far. Maybe I'll try ter put a bubble in the ground so they can't escape.
Gots to go, new project ter start! Thanks fer readin', and I hope yeh learned something! Remember ter check out SpeakBeasty! Don' forget ter follow the spiders!