MinaLima Releases "Fantastic Beasts" Prints and Stationery Collection
An exciting day for fans of MinaLima's gorgeous graphic design work – the magical design duo revealed a special Fantastic Beasts and Where to Find Them range of art prints and stationery.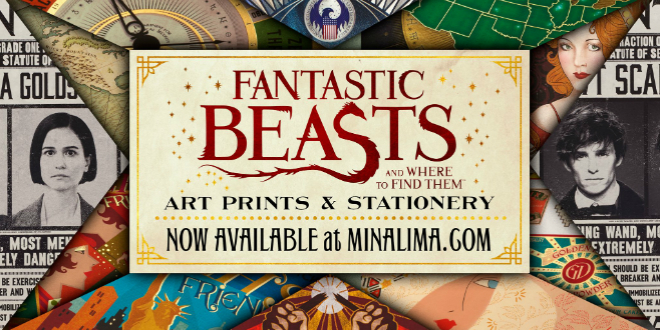 The range, announced earlier today, features designs created for the upcoming film and gives us a glimpse into the magic created by Miraphora Mina and Eduardo Lima. Without the work of MinaLima, the wizarding world would certainly not be as colorful and vivid as it appears on screen. The range of prints encompasses all kinds of aspects of the wizarding world, including a print of Transfiguration Today, featuring new contributor Albus Dumbledore; a Newt Scamander map and manuscript; and wanted posters, magical books, street posters, and much more.
Meanwhile, the stationery range includes postcards sets that range from MACUSA artifacts, American wizarding magazines, and wizarding products. As well as the postcards, several other stationery items also feature in the range, including a wand permit kit and a MACUSA writing set.
You can see the full range of prints and stationery, and pre-order the items, here. Prices for stationery items begin at £12.95, and prints range from £99 to £249. Plus, don't forget, the House of MinaLima is currently open in London, and a brand new exhibition opens in Paris, France, this week!
What do you think of the designs? Let us know if you're planning on treating yourself to any of these beautiful items!