Role Call: Wild Wild Wes
It's Fantastic Beasts week! While we all rush out to the nearest theater to dip our toes into our beloved wizarding world, a few of our favorite Harry Potter alumni have been busy! From Alfred Enoch to Natalia Tena, we have it all right here in this week's Role Call!
Fans of How to Get Away with Murder, PREPARE YOURSELVES! Alfred Enoch (Dean Thomas) will be leaving the show. For those of you who watched How to Get Away with Murder on Tuesday, November 17, you may already know that he died during the fall finale. Of course, we will all cry for years to come over the loss of our beloved Wes.
Entertainment Weekly interviewed the show's executive producer, Pete Nowalk, on his decision to kill Wes.
It wasn't easy to make. I switched my mind a million times, and I really just didn't make a decision, and I was like, 'I'll make it when I have to'… and then eventually it was episode 7, and I had to make a decision. It was the least fun aspect of this job that I've had so far. I've had to make hard decisions, but this one… we're just a happy family really, and I love Wes. I love how Alfie portrays Wes. I'm really terrified actually what the show would look like without him, but I think Shonda [Rhimes] taught me something: It's like, 'Go toward the terror.' It was a hard decision, but it's just going to be visceral for all the characters, and I think that's what I was looking for.
Alfie also went on Jimmy Kimmel Live to talk about the finale and to discuss what was #UnderTheSheet and how shocked he was to find that it was him. Not only is he adorable, but his accent is hypnotic.
To read more about what is to come for the show and how they will cope with Alfie's absence, read more in the complete Entertainment Weekly interview. No matter the decision, I think we can all agree that How to Get Away with Murder has been a dark and spooky ride, and it only makes me more excited to see what is next for Alfie Enoch's career.
Imelda Staunton (Dolores Umbridge) and Downton Abbey's Jim Carter hosted a fundraising event on November 8 to raise money for Beckton Children's Hospice. In order to continue helping families in need, the charity must raise over £2 million each year. A big thank you to Imelda and Jim for donating their time and money to such a good cause!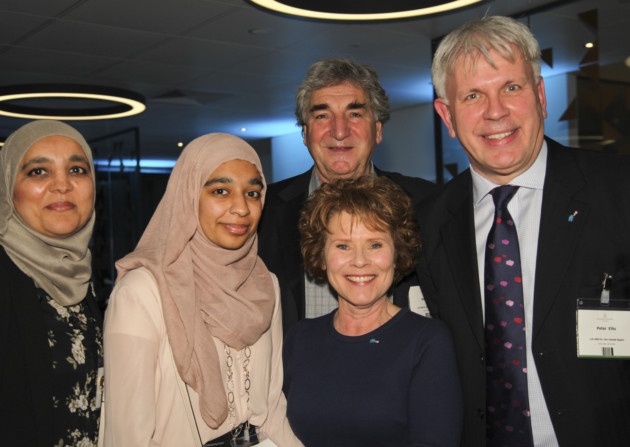 The third series of David Tennant's (Barty Crouch Jr.) BBC sitcom, W1A, is to begin filming this February! Tennant has narrated the previous two seasons of the show, but his involvement in the upcoming series has yet to be confirmed. David Tennant can also be seen early next year in the third and final season of Broadchurch!
Sir Michael Gambon (Albus Dumbledore) will appear as Mortimer in BBC Two's upcoming second series of The Hollow Crown. While the first series followed the stories of Richard II, Henry IV – Parts I and II, and Henry V, the second will be subtitled The Wars of the Roses and pick up the story with Henry VI and Richard III. The first part of the series will appear on BBC Two on December 11 at 9:00 p.m.
Natalia Tena (Nymphadora Tonks) will bring her band, Molotov Jukebox, to Chester on December 1 after a busy year of touring festival after festival. After that, Nat says she looks forward to the downtime and can't wait to retreat to her houseboat in Little Venice.
This Christmas I'm looking forward to sitting round on my boat in my pants with a good book and my cat and maybe a glass of wine.
Don't get her wrong, Nat loves being part of Molotov Jukebox, especially during her time off from Game of Thrones. During her time touring the country this year, she was able to play the main stage of the Secret Garden Party where she and her boyfriend/violinist of the band actually started the band itself. A lot is in store for Molotov Jukebox. If you want to grab a ticket for their upcoming performance, visit this link.
That's a wrap on this week's Casting News! How are you coping with the death of Wes in How to Get Away with Murder? Let us know in the comments below!