Central Curios: Fantastically Crafted Wands
How many times have you envisioned being part of the wizarding world and stepping into Ollivanders where the perfect wand would choose you? If you're anything like me, you may have even held different wands at the Wizarding World of Harry Potter in Florida and imagined which one made you feel something.
I got a chance to speak with former SpeakBeasty host Aaron Schwartz about his booming business of handmaking wands, because his are unlike most we've seen on the market.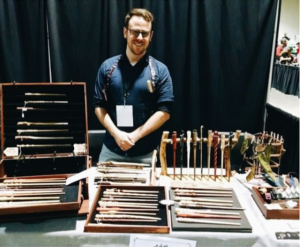 When asked what got him into this area of business, Aaron responded,
Well, I've been doing woodworking forever, and I've been a Harry Potter nerd forever. I started because… it was for a Harry Potter marathon my friends and I do every year. I was like, 'Well, I'll make a couple [of] wands just for fun,' and then people told me they were really nice and that I should keep making them. Eventually, I ended up at Whimsic Alley in LA during one of their craft fairs.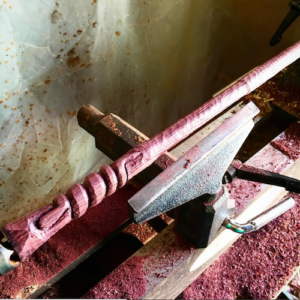 On wand lore:
I'd always been interested in the wand lore. When that went up on Pottermore, I was so obsessed. Originally I started just making the wands because I liked them, but then I really liked the wand lore that J.K. Rowling had written. But I was working with a lot of exotic woods because they're really pretty and really interesting. So I went through the same process that she did in studying the historical and cultural uses of different woods, as well as the physical properties and practical uses of the woods currently so that I could figure out what they would be in a magical sense. So for all of her lore, all of my stuff is congruent with what she's written. So I started writing all of this wand lore, and with each of my wands, I have a little certificate that tells you about the wand lore and the personality of that wand. So two wands of the same wood will still have a different personality.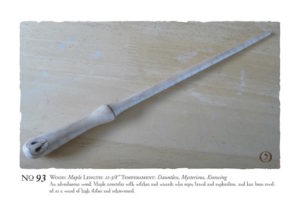 On originality:
I used to remember every single wand because every one is numbered. As of today, I've done over 280 wands. And they're all completely unique. Once I make a wand, I never re-make it, so everybody gets their own wand. It's just theirs and no one else's so that everyone can have that real experience. And I don't really do any replicas.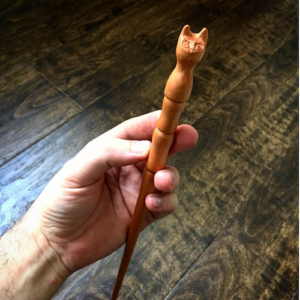 On the process:
It can vary because sometimes it can take a little bit of extra work. When I started, I bought turning blanks, and I bought a small piece of black and white ebony. Now I do a combination turning, wood-burning, hand-carving, doing all kinds of techniques. As you get good at something, you have to try new things in order to really challenge yourself. Then I finish them with a natural finish. I never stain or dye the woods at all, because a lot of the woods I use are just naturally fascinating.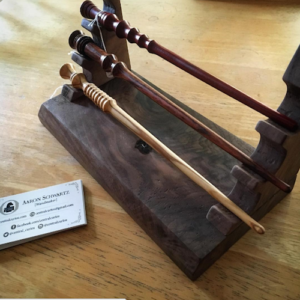 On feeling like Ollivander:
If I sell a wand to somebody, sometimes I'll see them at another convention and I'll be like, 'Oh, hey, mahogany and twelve and a quarter inches, right?' So whenever I can, I try to do that. One of the first times I was at Whimsic Alley, there was a little boy who came and really wanted a wand. That day, I had made a wand that was laurel, nine and three-quarter inches, and I didn't like it. I wanted to throw it out. But I figured I need to have other wands on the table, so I'll bring it. So the little boy picked up every single other wand, and he kept coming back to that laurel wand. And eventually, he said, 'This is my wand. I feel it. This is the right one.' And it was such an amazing thing to happen. Sometimes I make so many of these that I forget in the moment that it's not a stick. It's a piece of this fictional reality that people can invest themselves in. I love when that happened; he was so happy when his mom bought it for him, and he walks down the hallway practically skipping. He turns around and goes, 'Thanks, Ollivander.' I was done. It doesn't get any better than that.
You can find Aaron's work on Instagram and Facebook under Central Curios!